For those who have problems rolling and constantly ask how to roll proper joints, here's a step by step guide to rolling a joint that will smoke properly. This is not for more advanced rolling techniques such as a cone or tulip.
Prerequisites:
A flat surface: preferably in a non-windy area, and made of a material where small fragments cannot be lost and no lint/hairs will be gained (such as a carpet, ugh)
I am using a piece of paper on the floor, remember though, a piece of paper is not adequate on your lap.
A good paper: I reccommend EZ wider 1 1/2's or double wide, zig zags, top, rizlas, bambu, and most hemp or rice papers, but there are many good papers out there. Its best to find your preferred papers through trial and error, if you want to call getting stoned error. There are slow-burning, and flavored papers out there, as well as many other things, so be adventurous.
Note; It is sometimes good to stick two papers together (seen below) to give you more space to roll. Today I will be using HemPire 100% hemp papers, they are large so I do not feel the need for two papers, but I will take a picture of a pair of Bambu chocolate papers put together to demonstrate.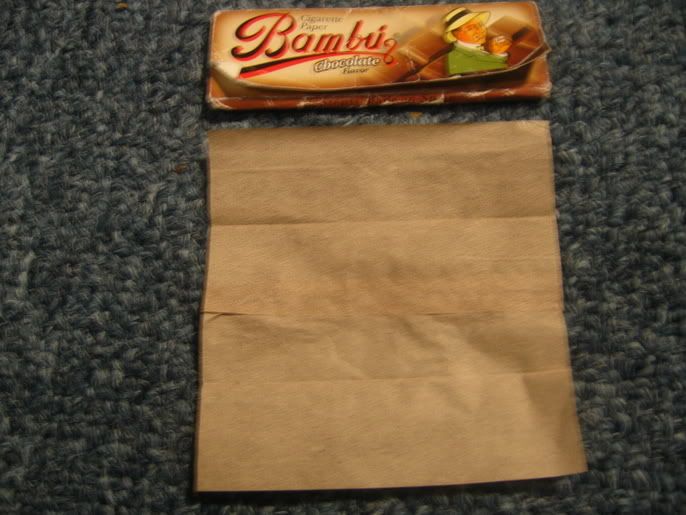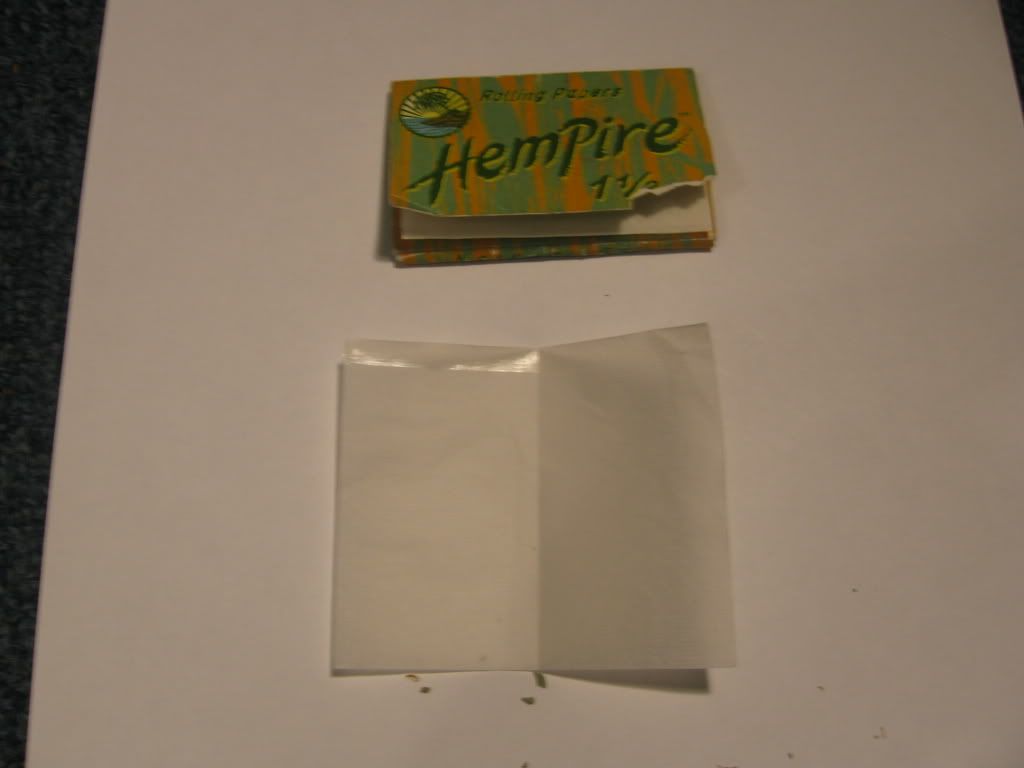 Weed: Weed must be ground properly and not too moist, if you have some really really sticky weed, it might not roll properly, so either dry the weed out or don't roll a joint in that instance. Grinders are useful investments for lazy people, but weed can be properly broken up with care by hand. Be sure to remove all stems and seeds at this stage, I hope your weed is seedless for you, but a seed can sneak into some dank sometimes or come in droves on lesser quality bud.
Before: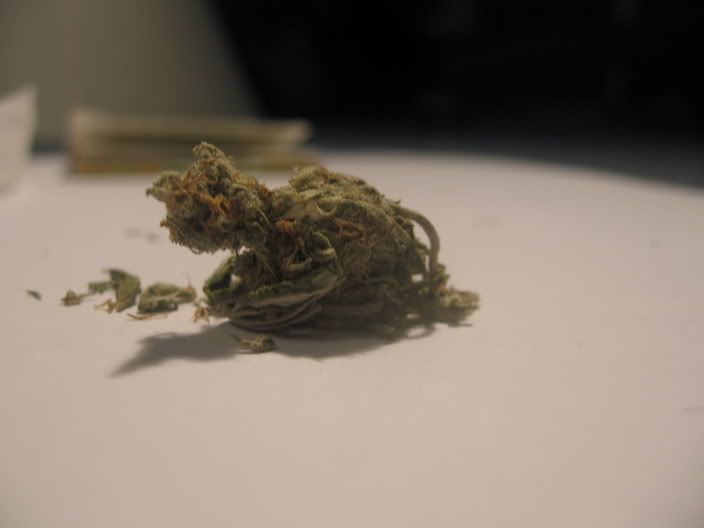 After: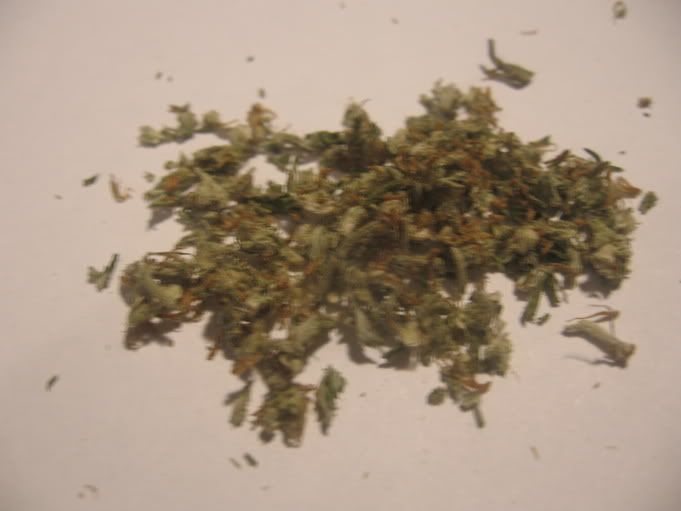 Steps:
Make a small lip at the bottom of your paper with the glue facing up and on top. The lip should not come up past the halfway point of the paper, or weed might roll out the ends later.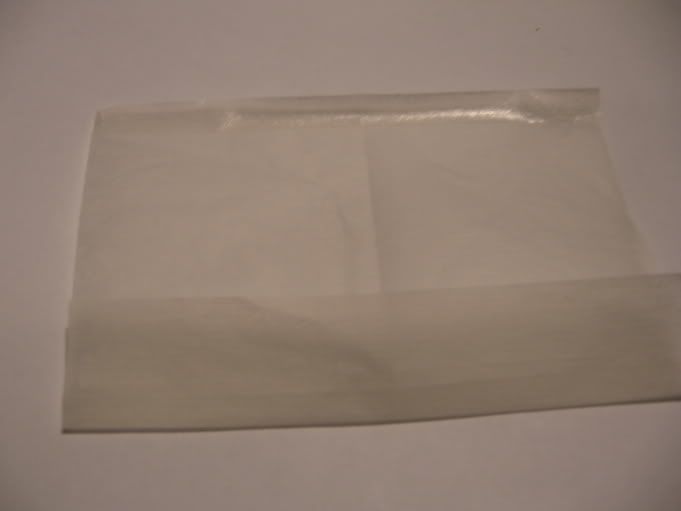 Spread your green evenly throughout that lip, taking care to remain a good half inch or more from the ends on each side to minimize spillage. This is the point at which some people insert their roach, so they can roll it up into their joint. A roach is either the end of a smoke joint or a small piece of paper or cardboard paper at the mouth end of a joint so you can smoke it until it is next to nothing, so you don't draw through and weed, and so the end can become moist but still draw very well. I put my roach in later however.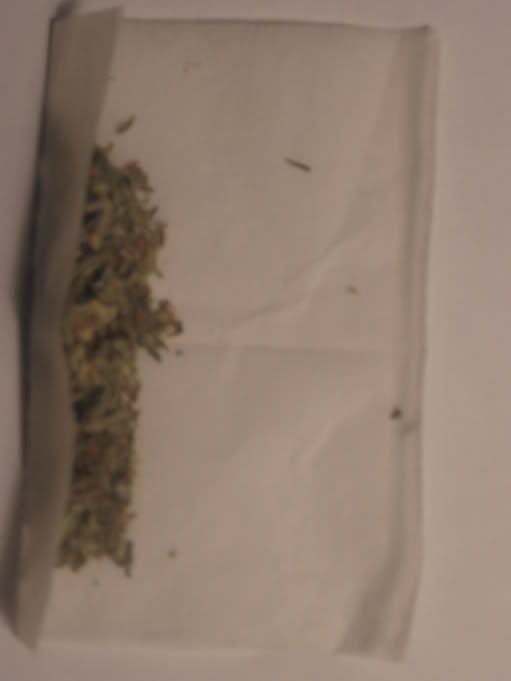 Bring the lip over the weed and bring down, this may need to be repeated and may take several times before you do not spill much weed, depending on your skill. Some weed may be spilled, but it can be used later in the joint. Keep this up until you have a nice tight log in the bottom of the joint, that you can comfortably roll upwards.
Roll the lip making sure to push down on the log to retain tightness, and making sure that you edge is folded
in
across the whole paper. Then once you reach the glue, lick and seal making a tight fit.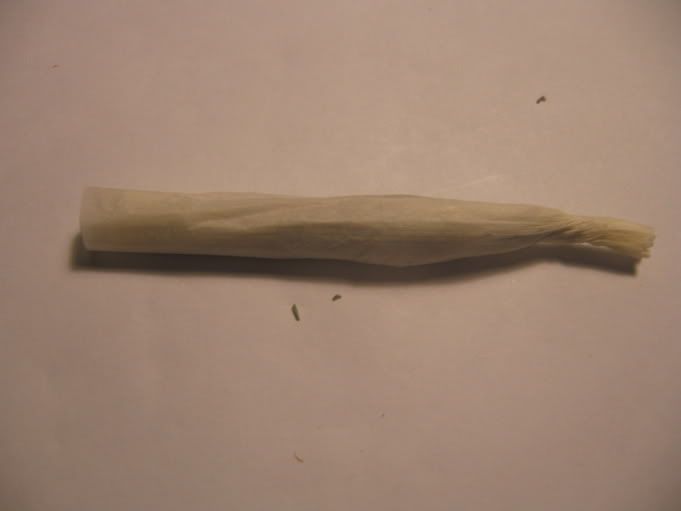 You may be finished here, but if you spilled before there is a nice open joint end where you can drop in weed and tamp down with a small tool (pencil, pen roach clip, needle, twig) that can be almost anything.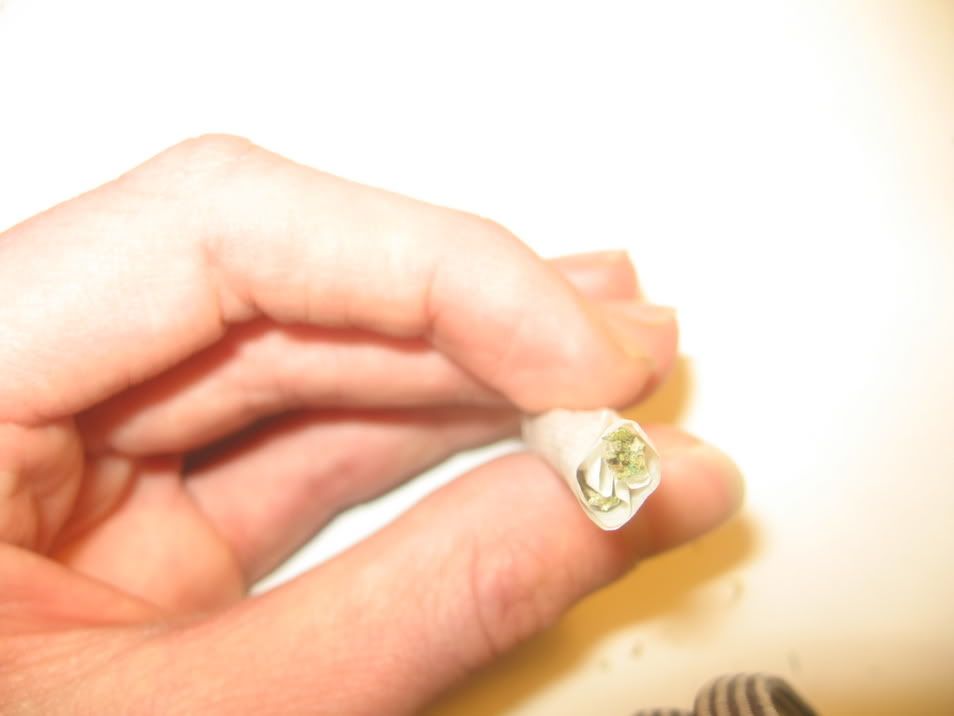 A finishing strategy that some may use to make a tight joint, it to tamp down one end and pinch it shut, and grab ahold of the flattened paper and shake down the weed inside, this can often make the joint density more uniform, but don't make it
too
tight, or it will not burn properly.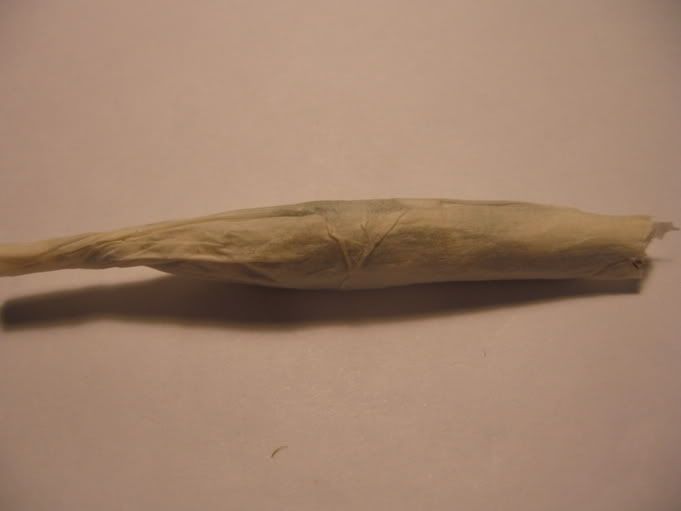 This is where I insert the roach, with the extra room in the paper that I have tamped down, I take a small tear of index card, roll it into a rounded moutpiece and stick it into the end of the joint, make sure it is not too big or too small. If it is too big it will break the paper. A slightly too small roach can be remedied by making another or by wetting the paper so it conforms to the roach shape, this improves the roaches stability by attaching it the the paper.
The pen indicates the location of the roach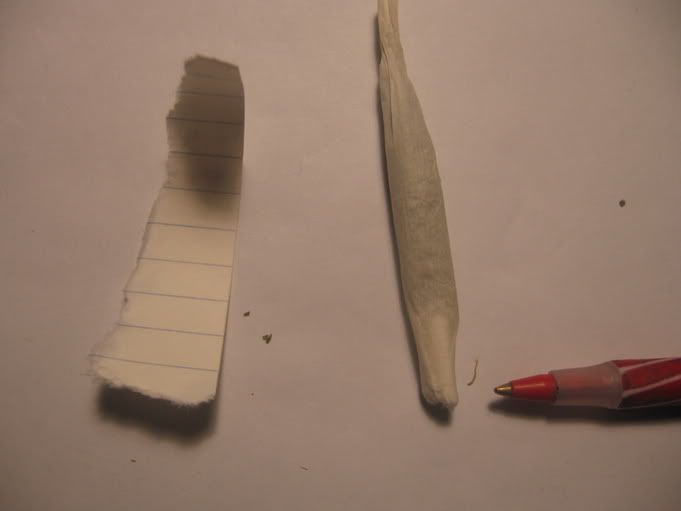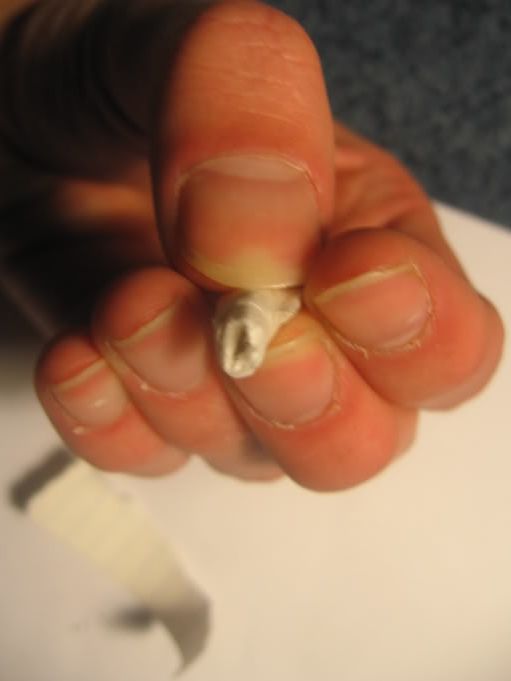 The last step is to enjoy your smoking of your joint, which may not be the prettiest joint, but damn it to hell, it works right nice.
But if you hate joints, or still can't roll them, there are plenty of options.
You can invest in a roller, which are very inexpensive
or....