Hey everyone! I decided to finally try making a cup of marijuana tea, and here is the method i followed. This is my own recipe and would love it to be spread! Tell your friends! Weed tea is a great way to use marijuana, and as a tea enthusiast, i personally like it a lot more than smoking!
NOTE:
This will most likely not be an incredibly intense high if you are a somewhat frequent toker. The high is very relaxing and soothing with great painkilling properties. You will be able to function in the real world with this high, it is not too overpowering!
...For One Cup...
Ingredients:
*about 1g of low-mid quality weed(reggies). Remember, more is better!
*2 tea bags
*honey and/or sugar
*about 1 tsp butter. Again, more is better, but don't exceed 2 tsp per cup
*full fat milk or half and half
Tools:
*scissors
*stapler
*tea kettle(to boil water)
*tea cup/mug(mug is better)
The Tea Bag:
1. Assemble your materials. Grind up your weed, but not too much where it is a powder.
2. Cut off the very top of one tea bag; the part that's sealed. Also remove the string, at the base. Dump out all of the tea leaves from the bag and keep for later use.
3.(optional) Mix your weed with a small amount of tea leaves, from the open tea bag, just to add substance. This is useful if you do not have a lot of weed.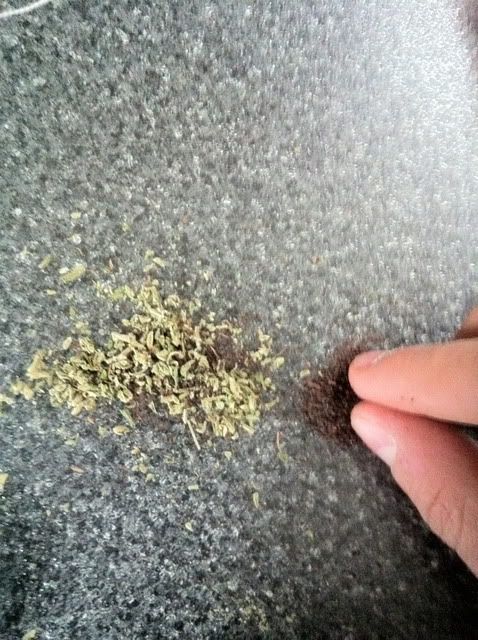 4. Carefully refill the opened tea bag with your mixture. Then fold the top over, as shown in picture, and staple(you can re-attach that string from earlier too). Then clean your bag well to make sure there are no particles on the outside. (As you can see later, I failed to do this, and had floaties in my tea! If this happens to you, simply run the finished product through a mesh sieve.) Congratulations! You have have made a weed tea bag!
The Tea:
1. Take more than half of your butter and put it in a mug with a small amount of milk, just enough to cover the butter. You'll want to keep some of the butter to the side for later. This is not an exact science.
2. Heat the mug to melt the butter into liquid. Be careful if using microwave and always use a low temperature, because if you overheat the milk it can curdle, yuk!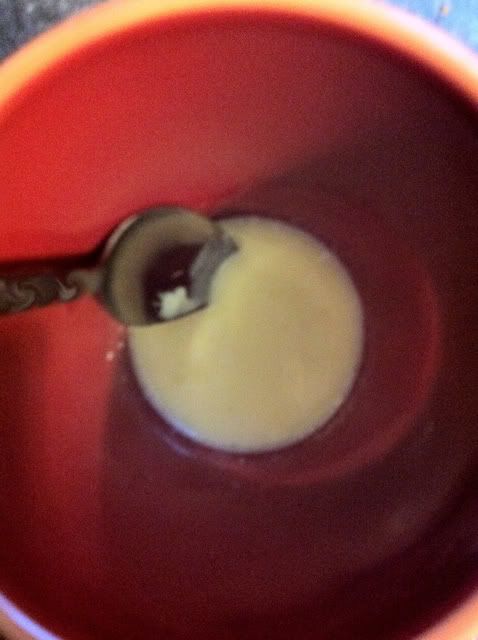 3. Boil water and half fill your mug. Take your weed tea bag from before and submerge and dunk it, stirring periodically. (optional) Add sugar or honey to taste. One tsp usually does the trick.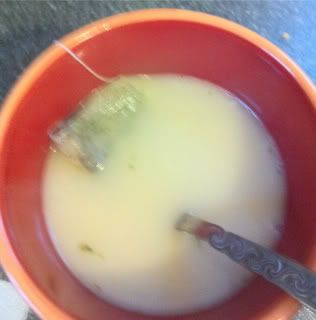 4. After several minutes of the tea brewing, boil some more water. Fill the mug up, close to the top. Put in your remaining butter and add half and half to taste. Stir periodically.
5.(optional) After the tea has been brewing a good 10 mins, you can add a regular tea bag. I recommend this, as it greatly improves the flavor and gives it an amazing aroma.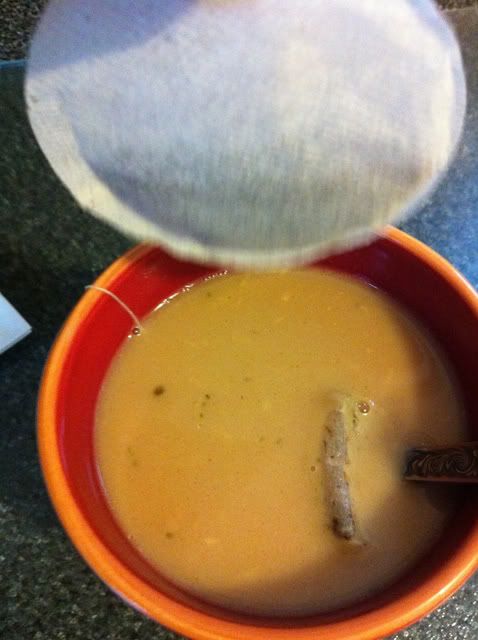 6. Let the tea brew for another 5-15 mins and remove both tea bags. You can save the one with weed in it and try to re-use it, but i have never tried it and doubt it will work.
7. You can enjoy this tasty beverage either hot and freshly brewed, or have it on ice to enjoy later! When icing, first cool in fridge, then add ice only when you are about to consume it. Works well in a thermos.
The weed tea has a very strong effect on you. Many consider it to be the supreme way to utilize marijuana. It is soothing to the stomach when ingested, and has a pleasant and therapeutic aroma. When the THC effects kick in(usually 45-90 mins after ingestion), you will experience a calm and relaxed high that is infused with caffeine. It makes you feel aware, yet still have all of the effects of a typical weed high(ingested)!
NOTE:
Some users experience mild stomach aches from consuming weed or caffeine orally, so do not overindulge!
EDIT:
If you like this recipe, please comment and tell me your results! I'd love to hear feedback!
EDIT:
Im going to try re-using a tea bag tomorrow. Ill keep you updated!
Edited by brewmaryjane, 21 January 2011 - 08:21 PM.
note added