Hi GC,
This journal is already about 60% done. I have logs of everything since the start.
----
I aquired 6x 6-10" tall XXXskunk clones from a kind friend. I planned to plant them outside after watching a few videos on youtube and reading
Marijuana Horticulture the Indoor/Outdoor Medical growers bible
, this was 6/20. I dug ~18inch holes and filled with MG potting soil, sphagnum moss, steer manure compost, and perlite. I planted all but 1 outside, and put 1 in a pot, left outside (ran out of room). I also lined the top of the soil with cedar beauty bark. I couldnt find any real solid info on the net for or against the cedar bark. I wound up taking it off a couple days later and replaced it with some grass clipping, straw etc.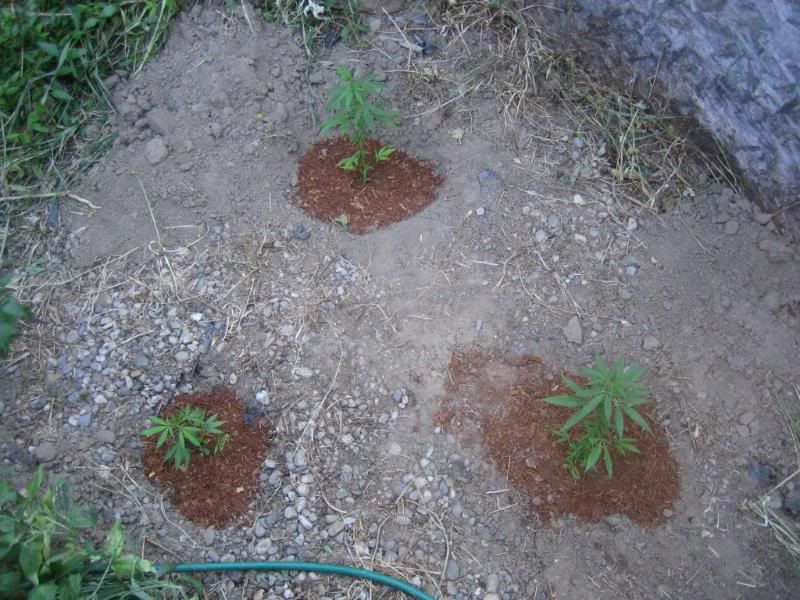 The biggest one:
2nd biggest: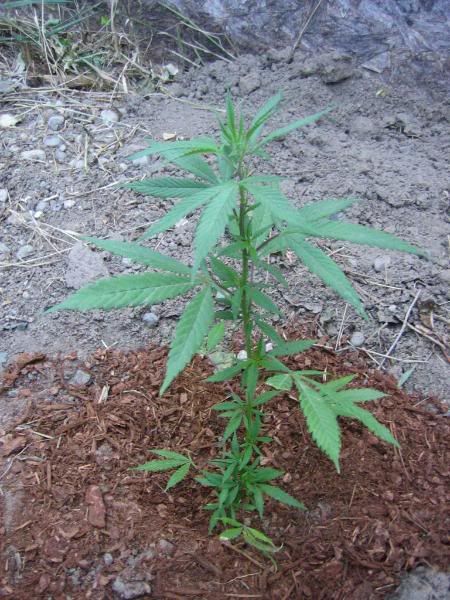 The rest were about the same size:




6/22 and again on 6/26 I watered some, 6/28 I trimmed a nearby tree that was shading them. Measurements as of 6/28: 12", 14"(side), 20", 20", 14"(triangle). Plants were getting direct sun from 10am to 3pm. Not ideal conditions but its what I had.

6/30 I picked up a 1000W MH light system and brought them indoors, lights on 24/0. Dug up and potted using their soil from outside in 5 and 3 gallon buckets. Room is 6.5Hx8Lx6.5W, ventilation is 1 oscilating fan blowing in the room, and 1 exhausting out the only window that I built into a little housing with screen across it to keep bugs out. Keeps the room at a pretty consistent 80F. Only nutrients so far are MG organic worked into the original soil.

6/30 Also picked up a 24" Sour Diesel clone.

Light:




Window exhaust:


7/03 Sorry no pics in between the transplant and now! I noticed some white spots on the leaves and at the time didnt know what it was. Did a bunch of research and decided it was probably spider mites. Sealed all the cracks in the room with some of that foam sealant. I also picked up a Hot-Shot no pest strip and left it in the room with the fans off for 12hrs for a few days and it shut them down.

Sour Diesel is the front left, the biggest one. This is day 6 of veg since under my care.



Some of the Spider Mite damage: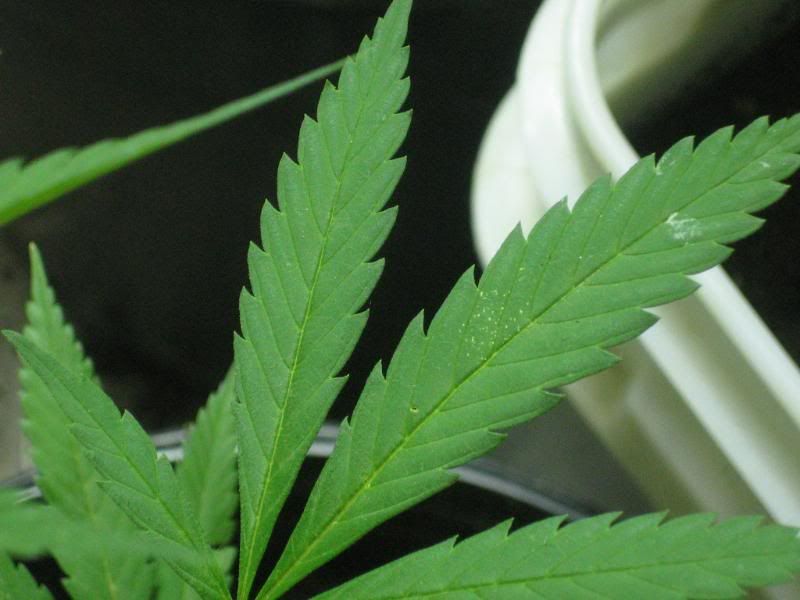 7/05 Watered with a bit of MG all purpose fertilizer. No access to any better nutrients at all :-/
7/07 Stretched out some of the branches with twist ties on the Sour Diesel lady, trying to make it bush out a bit.
7/08 Watered and fertilized.
7/14 Watered and fertilized.
The plants havent changed buckets but they do get rotated around the room, twisted 180 degrees every 12 hours, rotated 1 place clockwise every 24hrs. To try and keep light distribution even.
7/14 Day 17 of veg since aquired.: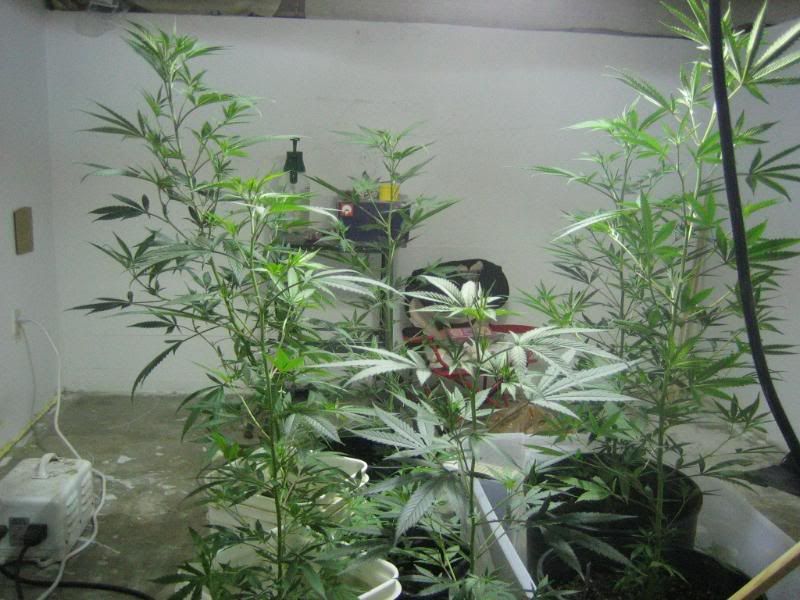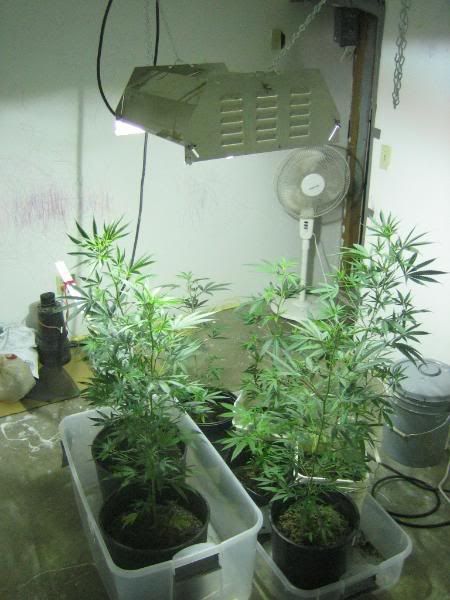 Sour Diesel lady is leanin!
7/16 Got about 15 mason jars and lids for curing at the thrift shop for 3$. I also installed a heavy duty 1000W timer for the light.
7/17 moved the light up about 1ft. some leaves looking hot!
7/17 spread out the plants about 1ft from each other to allow more light penetration
7/19 Big work day, lined the floor with black plastic. Wired in the light to the timer to set on 18/6 time. I lined the light entrances with cardboard to seal the room up. It looked like I had been kinda stingy with the water so I probably quadruple watered with full str nutes. I also screwed the light directly to the ceiling so I dont risk the chains breaking somehow and the light dropping. I can put small plants on a table to bring them closer to the light easier.
7/20 Pics: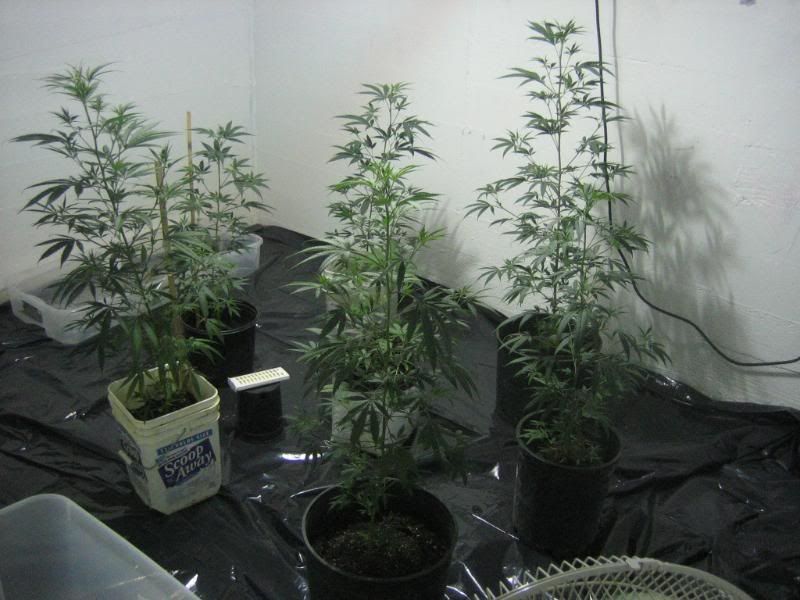 Looking up:



7/24 watered

7/29 watered

8/03 a few plants looking pretty droopy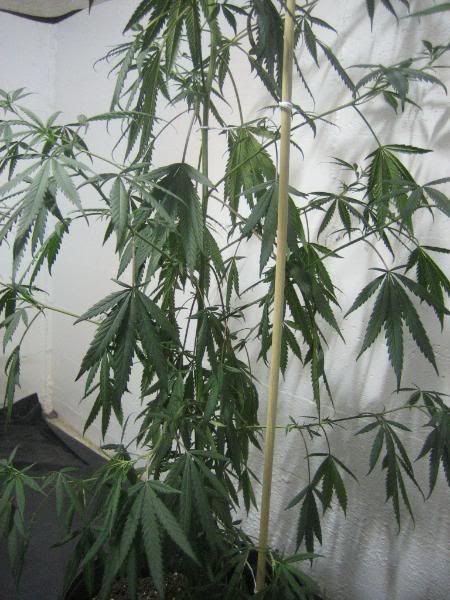 The GC community assured me they looked good and just needed more water. I watered them more and they perked up. I think im seeing a problem with my watering here...


8/03 After 38 days of vegging in my care im switching to 12/12, plants are pretty tall, biggest are just over 4ft, and the rest are all over 3ft. I have 3 pretty big ones, one being the Sour Diesel (woot).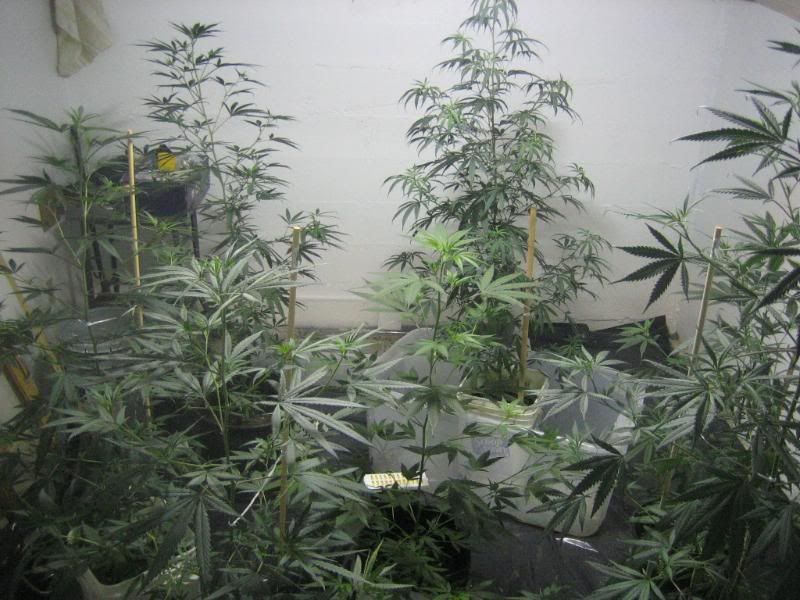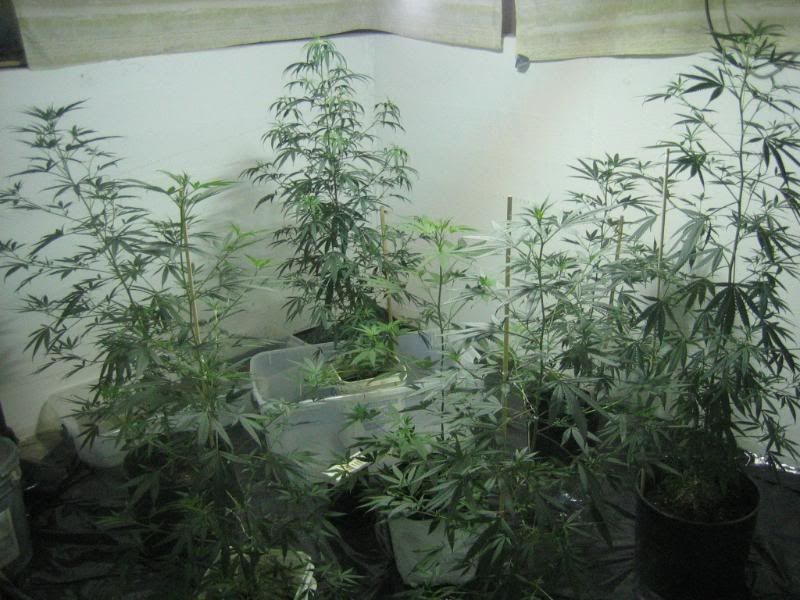 Still rotating the plants around the room.

8/05 Some of the leaves on the 2 biggest XXX ladies are curling under. Kinda weird. Took me a few days to find out but I think its a potassium deficiency. Ive read it will occur in your best plants first, and it will look underwatered, droopy and the leaves curl under a bit. I didnt have much I could do to fix it but keep up with the poor MG fertilization schedule.

Pics of Potassium(K) Deficency: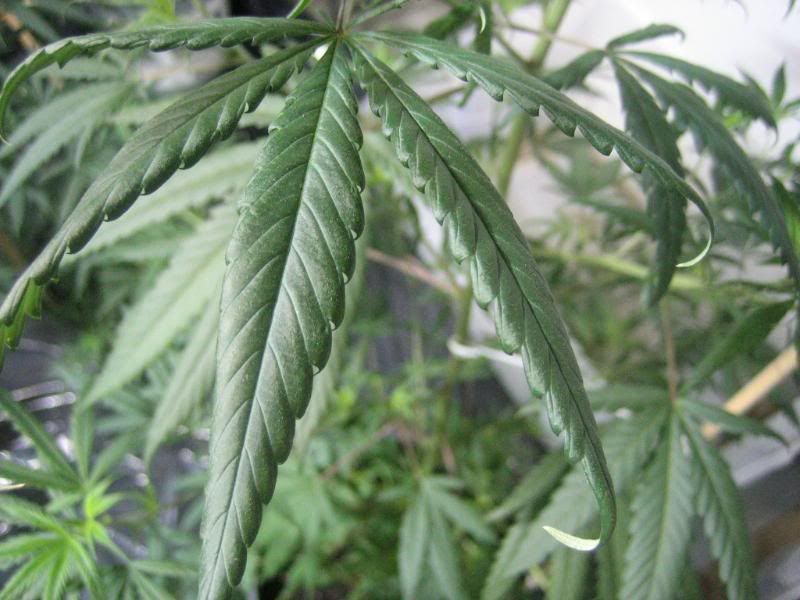 8/09 I transplanted all the plants into bigger pots and new soil. Some of them had some of the native clay in the soil from the original transplant so it wasnt optimal. Replaced with MG moisture control, steer manure compost, and sphagnum moss mix. I rubbed off most of the soil, so I lost a little bit of roots but kept the bulk of the root ball. Replanted at a pretty steep angle, and trimmed off the bottom 6" or so of leaves and branches. I tied them to the ceiling with nylon cord for support (some feel like they need it, some dont and it hangs loose, I leave it there just incase) I broke a couple branches and built a homemade splint out of 2 matchsticks bracing the brake with a pipe cleaner wrapped around to hold it. It can be seen in the 9/14 pic, in the middle, its bright blue.

8/08 Pic 5 days into flowering:

8/14 took about 5 days for the plants to recoup from the transplant, and start bending twoards the light from their new positions. I got some Alaska: Morbloom organic blooming nutrient (fish emulsion) 0-10-10 and some shultz blooming feed. I fed 6 of the plants with the organic at full strength, and my smallest weakest one the shultz at full strength.

8/14 Pics of Potassium deficiency advanced: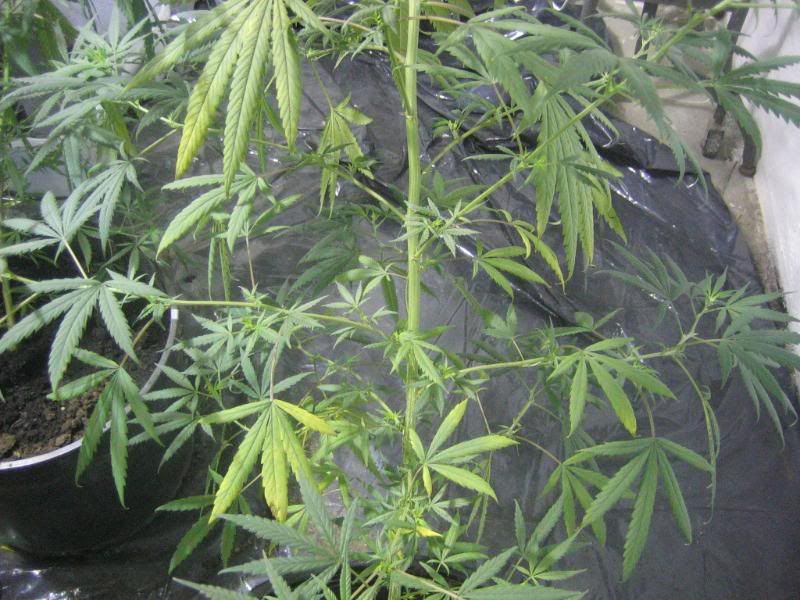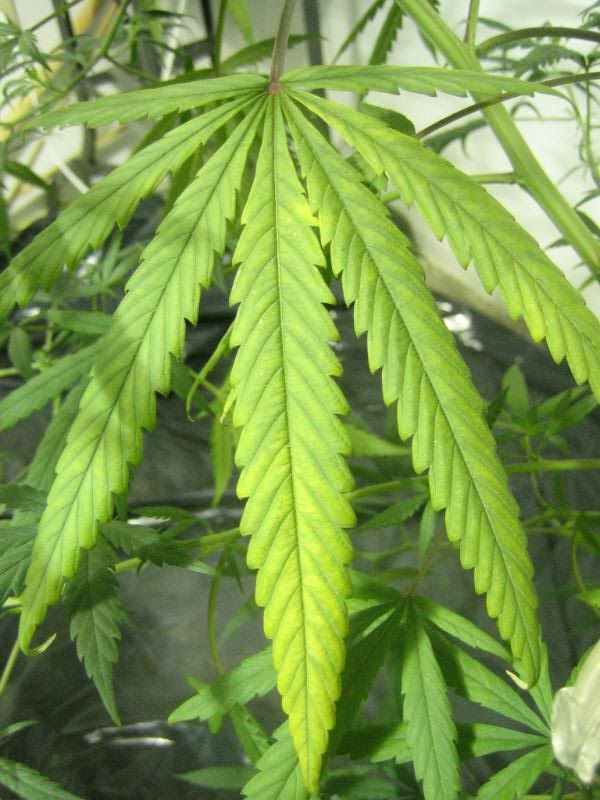 8/14 Also first budporn pic!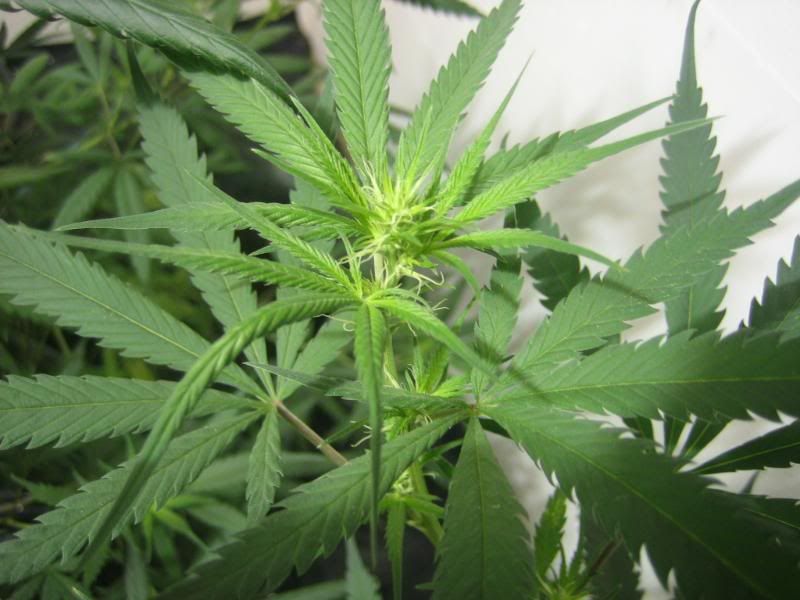 8/14 11 days into flowering, note the light blue homemade brace: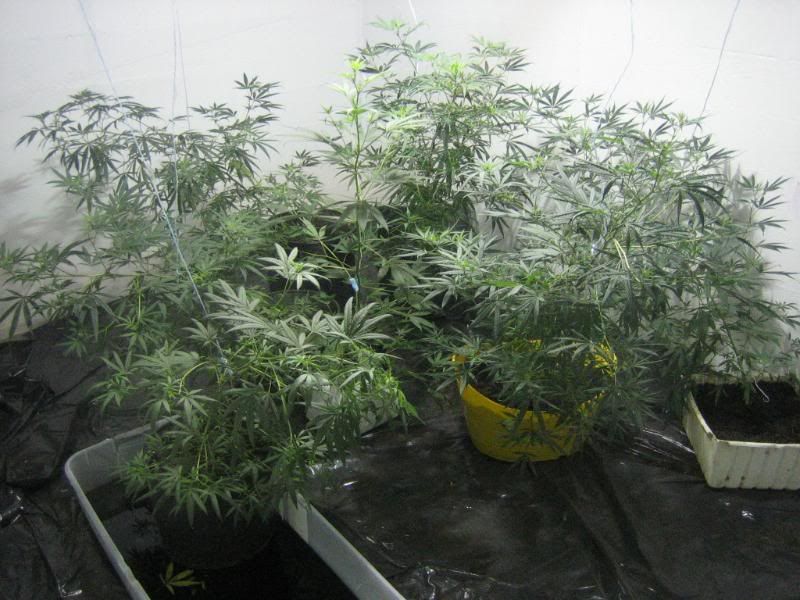 8/18 Room shot: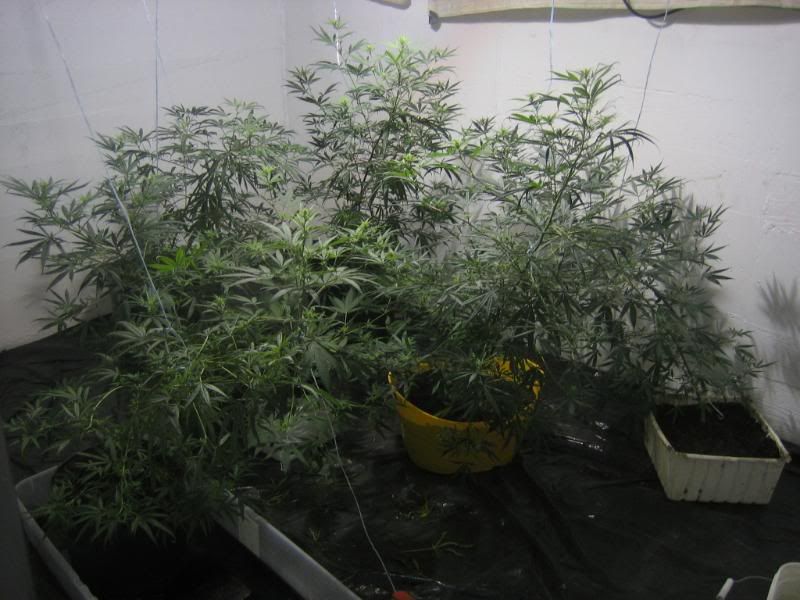 8/20 Burned the fuck out of the small plant. I must have used too much. I flushed it, then wound up watering all the plants with water 4 or so days later, it looked like I re-burned it so I flushed again. The smallest plant is showing by far the least bud production. It looks way different than the rest, I may be able to salvage it by flowering it longer since it looks a couple weeks behind at least. I will try to get some comparison shots soon.

8/24 is 22 days into flowering. 34-41 left.

8/25 day 23 of flowering, you can see buds forming all over the canopy. Looks to me like alot of budsites!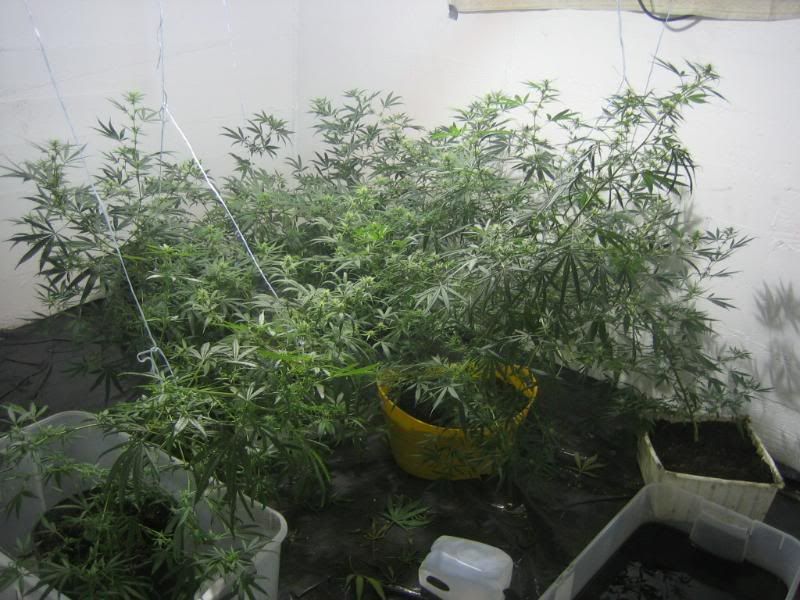 8/25 and some budporn you can see some faint crystals on the small leaves:



Thats up to present!

After writing this, I have a few things Id like to add asap. Comparison shots of the SD to some of the XXX plants, and how much different the fried one looks. I will keep this journal up with AT LEAST new pictures every sunday.

Hope people like it, please comment!

*edit* The SourDiesel is in the yellow bucket, after being repotted.

Edited by WA-grower, 26 August 2008 - 07:58 PM.