This is what it looks like.
I had the chance to receive a batch of moldy pot specifically to take photos of it. So here are the results.
It was hard to see on the dried flowers, from normal bud viewing distance, it looked like a dense cluster of chalky white trichomes, and could easily be mistaken for so. It was not widespread, only a few leaves here and there had visible accumulation, but remember if there is some visible, there are probably spores all over the bud.
After looking at a close up, you can see the fibers of the mold are much smaller than the trichomes themselves, and you can see the fibers covering some trichomes entirely.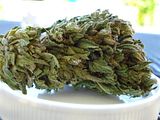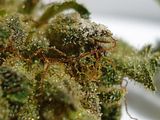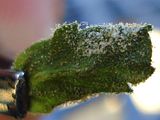 I dont grow... so I can't say anything about prevention.
Of course, I heavily discourage smoking anything with mold detected on it. Trashcan.
I hope you find this informative, keep an eye out!
ps, mods, sticky?
pps, I moved this from sick plants/problems. I wasnt getting good feedback there.
ppss, if you want to come in here and tell me how you'd still smoke it, don't, I dont want to hear about your irresponsibility, I just want people to know how to recognize mold.