so...i was screwing around with my alarm clock when i gladly decide to drop it on my bowl.
now, about a week ago i went out and got a new bowl.
It didn't fit my downstem, so i had to go buy a new downstem.
I Brought it home and the gromet from my bong was to big. so it wasn't air tight.

By now im pretty rattled.shouldn't their be like sizes? and i know theres big and small but these differ by basically nothing its rediculous.
anyways so i also bought some purple power and cleaned out my bong. as i dumped out all the shit into the toilet, my gromet fell it aswell. I flush the toilet, go back to my room and its not there so in turn...i get more rattled.

fast forward 2 days of smoking outta pipes:rolleyes:

i grab a new gromet from the shop and it looks all good, i even bring all my shit with me to check it out.
i bring it home and go figure , theres still the SLIGHTEST air sound. so now i just kinda put my finger over it and its fine, i guess i'll have to go a few towns over and get a new gromet that fits my bong (from another shop)...which probably won't fit my downstem again
. i don't know im high and ranting but heres what everything looks like.
The glass one is a Hi guy and the Acrylic is a Chillz. the glass one is my problem maker.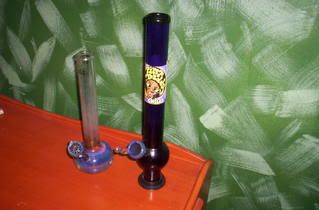 the bowls for both my bongs.


and my new one upclose...i felt clever using my mirror.:hello:HA.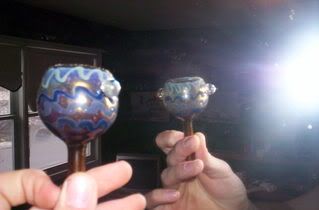 anyways back to bowls.chow for now.