Never get info from tokecity or thcfarmer or 420.
Remember patients is your friend and SAFETY FIRST!
So never get info from tokecity or thcfarmer ,or 420. Really bad info and flaming that goes on there. I have been banned from both sites for expressing the dangers of blasting bho onto oil slick pads as well as refusing to use there picture uploading server. This gives then coppyright over my pic the moment it is up loaded to them and as a business they dont pay me shit. I am an educator and need the rights to my pictures to teach properly.
Thread rules. This is a discussion thread, no flaming or egos allowed. If you have unconfirmed information please state it as such. If you are speaking from experience please say so. Thanks and lets make some BOMB BHO!
equipment
-safety glasses!!!!!!!
-point and shoot laser thermometer
-pyrex dish 8x8, amazon ($16ea)
-2 large oil slick pads
-glass extraction tube local shop ($45ea)
-coffee filters and rubber bands or SS hose clamps
-power 5x butane, amazon ($30/case of 12)
-oven
-vaccum pump 1.5 cfm ac vac pump goes to -29inhg/14psi from amazon($90) I recomend a 2 stage but they cost more.
-dehydrator amazon
-electric hot pans for float dishes and the griddle for the vacuum oven, amazon ($40ea)
-vaccum chamber round pollystirine($90) or converted pressure canning pot.
-Butane, The tane you choose is up to you. I use power5.
There has been some debate about the "mystery oil" in the canned butane. What is it and how much is in the butane is different for every brand of butane but here is a breakdown of the different brands with lab results. For the price Power was one of the best.
http://skunkpharmres...ho-mystery-oil/
The temp you use from start to finish will determin the finishing state. these temps are different for everyone but they are close and are consistent for the vacuum purge method. Shatter is under 110 wax/erl around 120 honey/sap 160+
The different finishes for the vacuum purge method.
-Shatter is the least activated and is usually made at temps under 100 but can be achieved up to 120.
-Hard wax is slightly activated and is achieved at temps up to 140.
-Honey is the purest and most activated and is achieved at temps up to 190.
-Budder/hash/honey comb is not something I usually make as they are not stable and degrade fast. Also without expensive testing there is no way to know if there is butane or water in it.
Starting notes. Never blast onto anything other than pyrex. Parchment Paper and even the oil slick pads will deposit microscopic silicone particles into your extraction. I would avoid using PP for anything other than storage.
This is the original thread and has some good info throughout.
http://forum.grassci...ax-shatter.html
1. take the room dry trim/bud and dry it out in a dehydrator. Remember you want to run the dehydrator at a lower temp than you plan to finish with. Do this for at least 3 hours or longer. This is the step that makes it so clear and not black or green. If you are making big runs, you will want to use some freezer bags to hold the dehydrated bud as the dehydrator may not hold more than half pound or so like mine.
This is why you dehydrate. Like the color?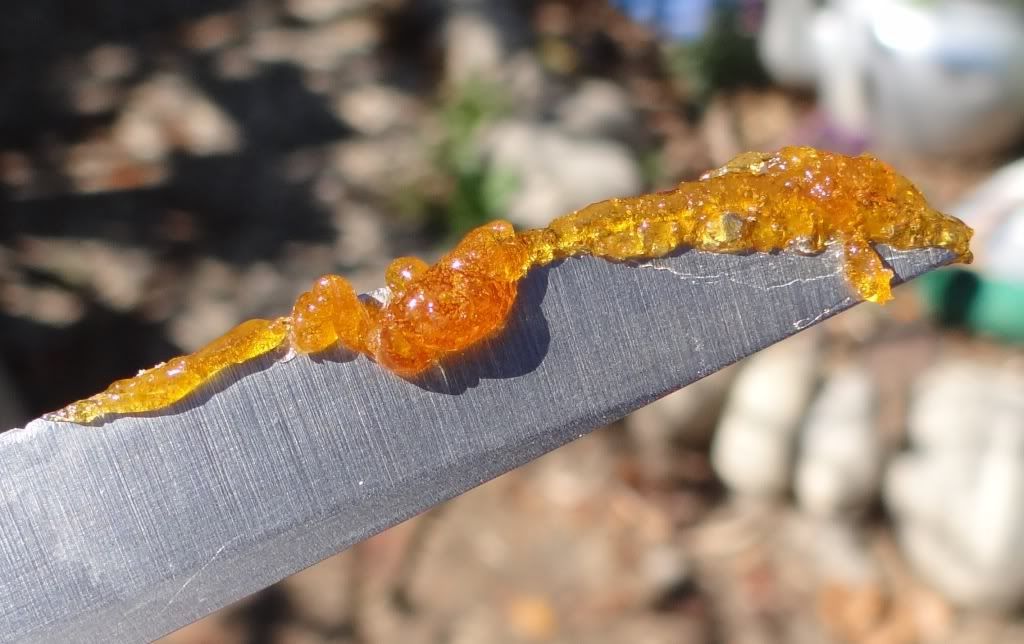 2. Now load the tubes packing the material as tight as you can placing 4 layers of coffee filter over the end and secure it with a rubber band or a zip tie. The tight packing is what provides for a high yield and also helps maintain a higher pressure in the tube keeping the butane a liquid longer.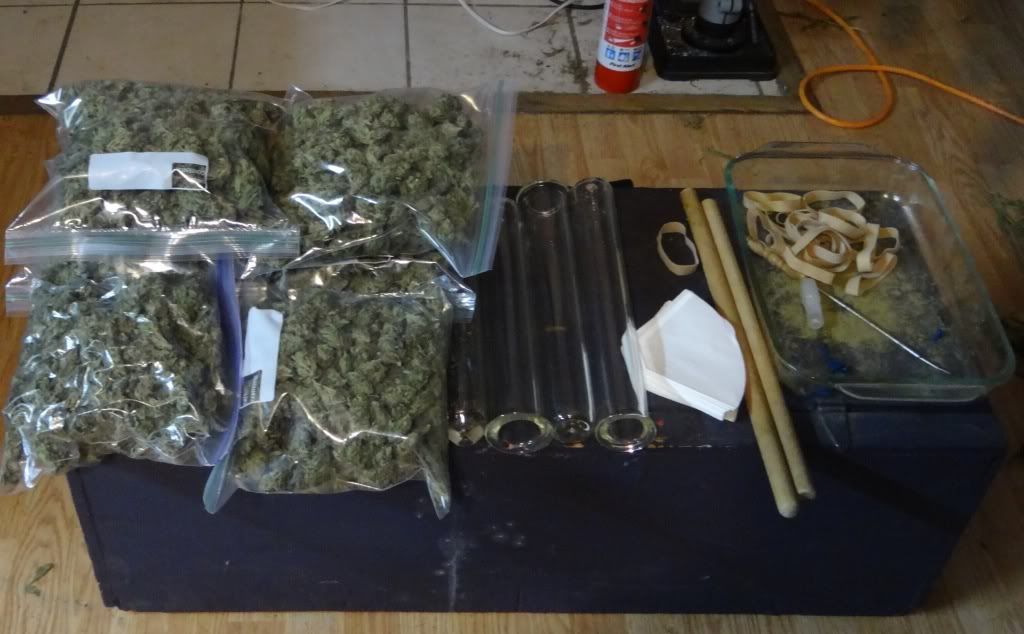 3. Set up the electric skillet and float the pyrex dish in it in water. make sure it is floating freely. Chose the temprature you want to use and start extracting. One 300ml can per ounce of material. Do this all at once with no pauses.
Warning: Never spray into parchment paper or onto an oil slick pad. It causes the Silicone to swell and flake off into your extraction. Science fact here. Only use these items after the initial purge and there is no liquid butane present.
4. OUTSIDE WITH FIRE EXTINGUISHERS READY!!!! Extract the cans through the cylinder all at once into the pyrex dish while its floating in the water. My cylinders are glass, 1.5" diameter, and 10 through 14 inches long. I use two float dishes and separate the first two from the third. The third is the clearest and the first two will knock you flat.
5. Allow to purge in the float dishes until reaction slows or stops.
6. Scrape the dish and transfer it to parchment paper or an oil slick and put it into vacuum/ pressure canner oven. Dont get stupid and try to put more than an ounce on a flat piece of paper and expect it wont end up off of the paper. Set the griddle at the desired temp using the thermometer to check your extraction at regular intervals to ensure it does not over heat. Once desired temp is reached let it sit until there is no reaction and surface is like glass. NO BUBBLES. The lower the temp the longer it will need to be purged.
The poor mans vacuum oven. Its a pressure canner converted to hold a vacuum sitting on a presto griddle.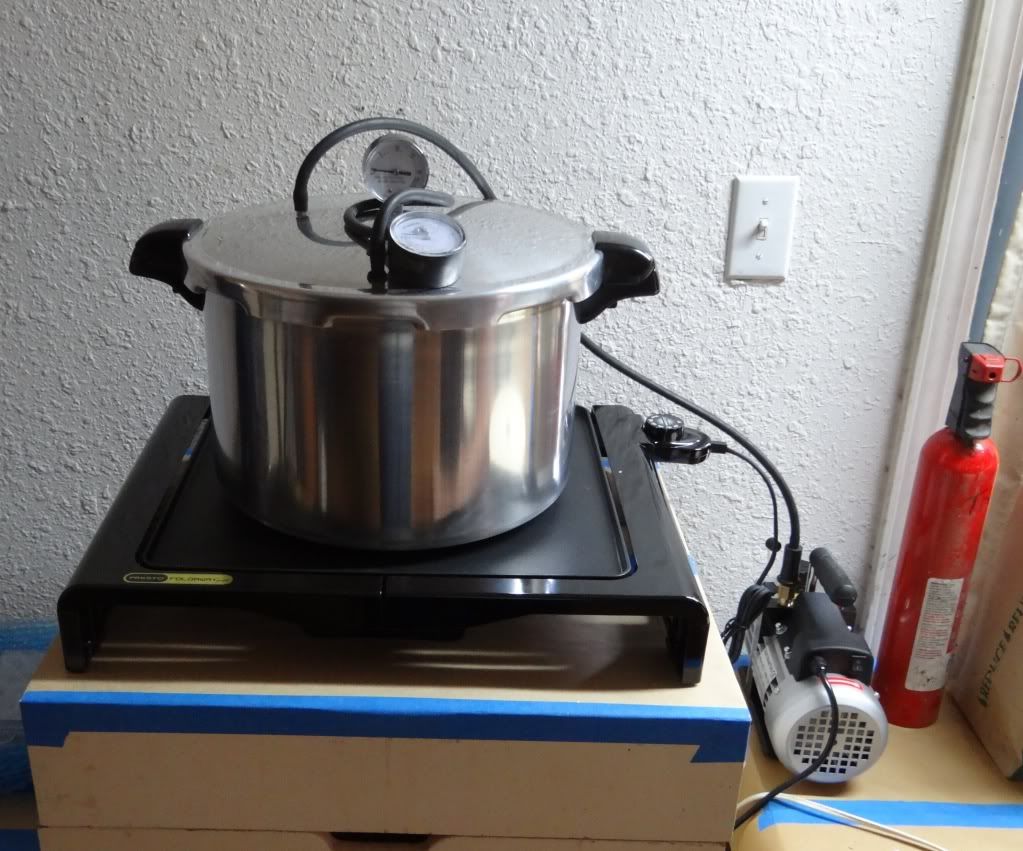 After you let it sit and heat purge it will look like this.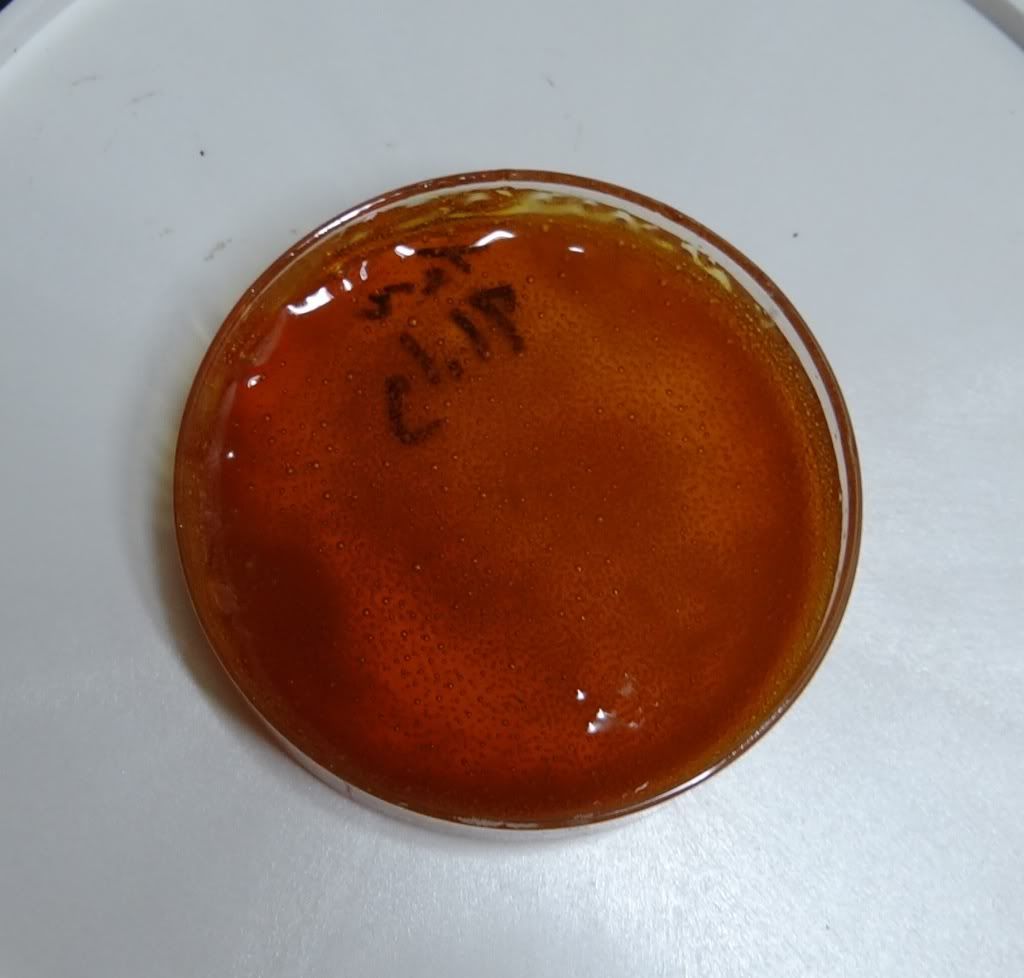 Now this looks really nice but what happens under -29inhg? So not as nice as it looked.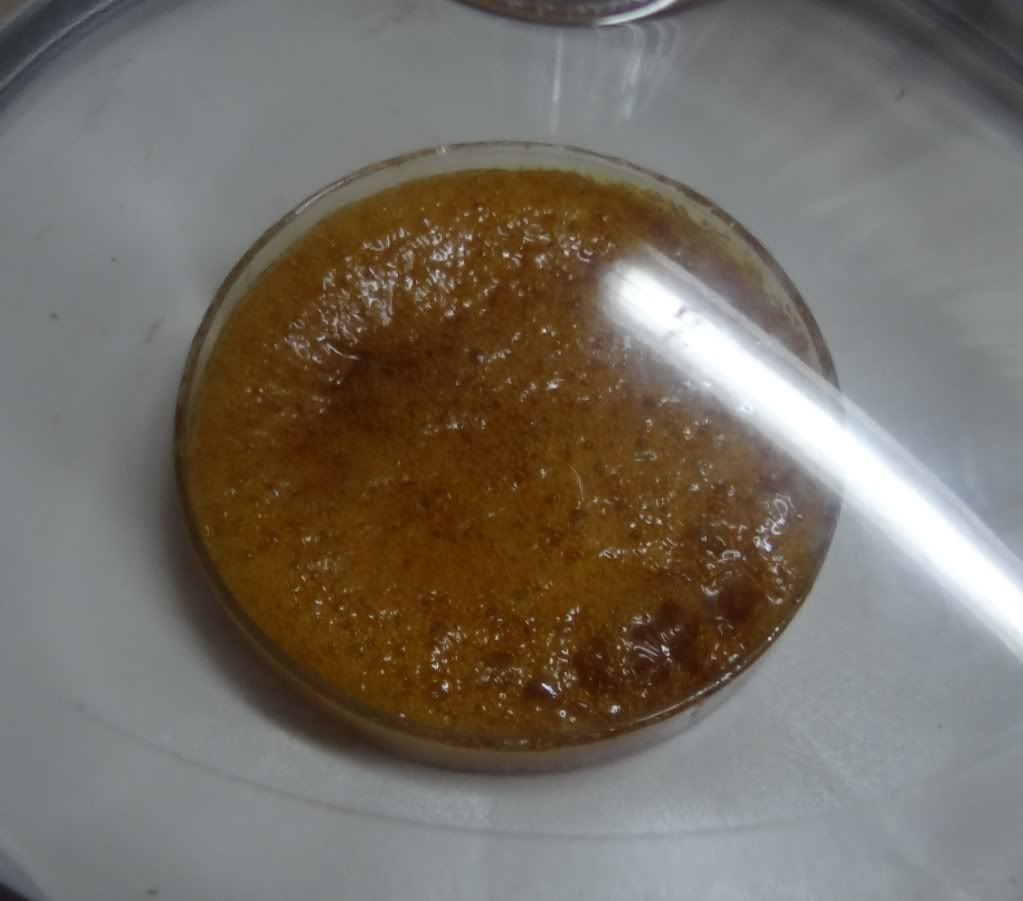 Then after some time at full vacuum and full temperature. Still not done.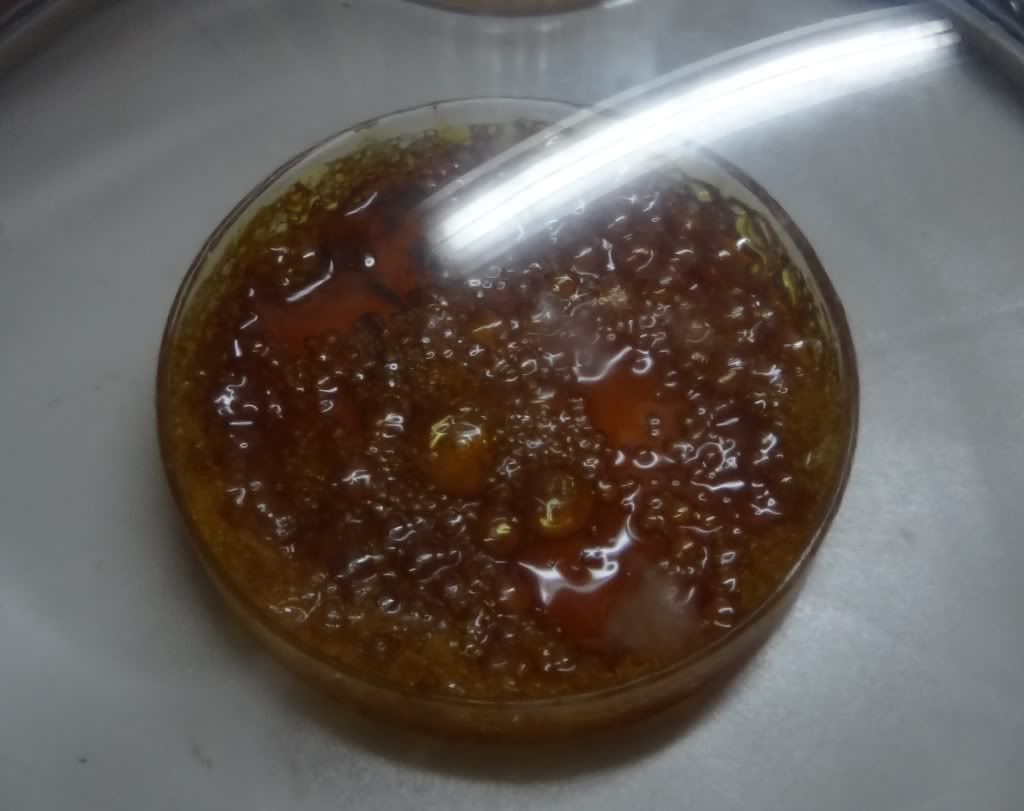 7. Vacuum purging.
If you want a clean and safe product you will want to vacuum purge. There are many methods and you will want to do some trial and error but this is the general rule. Always wait to vacuum until there is no reaction at your target temperature to avoid excessive puffing. Never use parchment papre for honey oils, only to store hard finishes like waxes and shatters.
Why we vacuum
Not vacuumed
After the vacuum.
2 ounces after a vacuum. Clear enough for ya?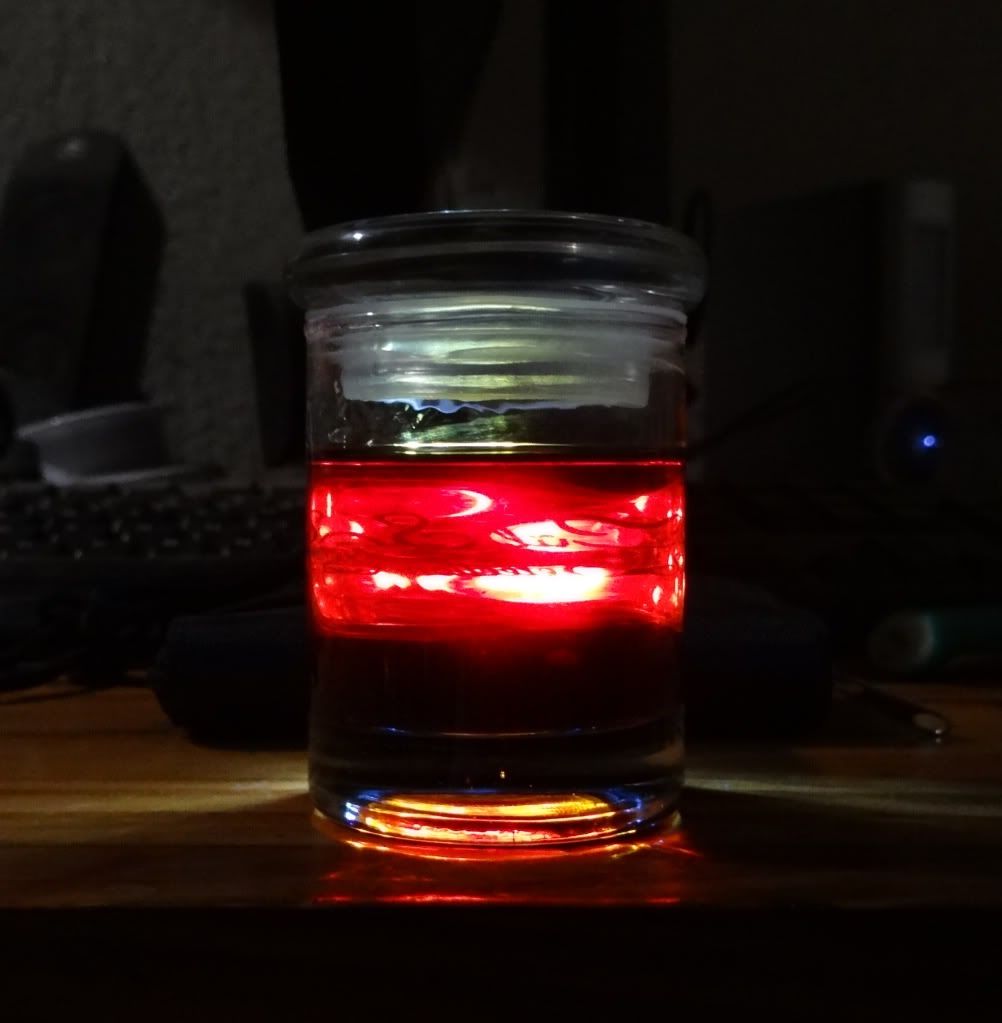 How about this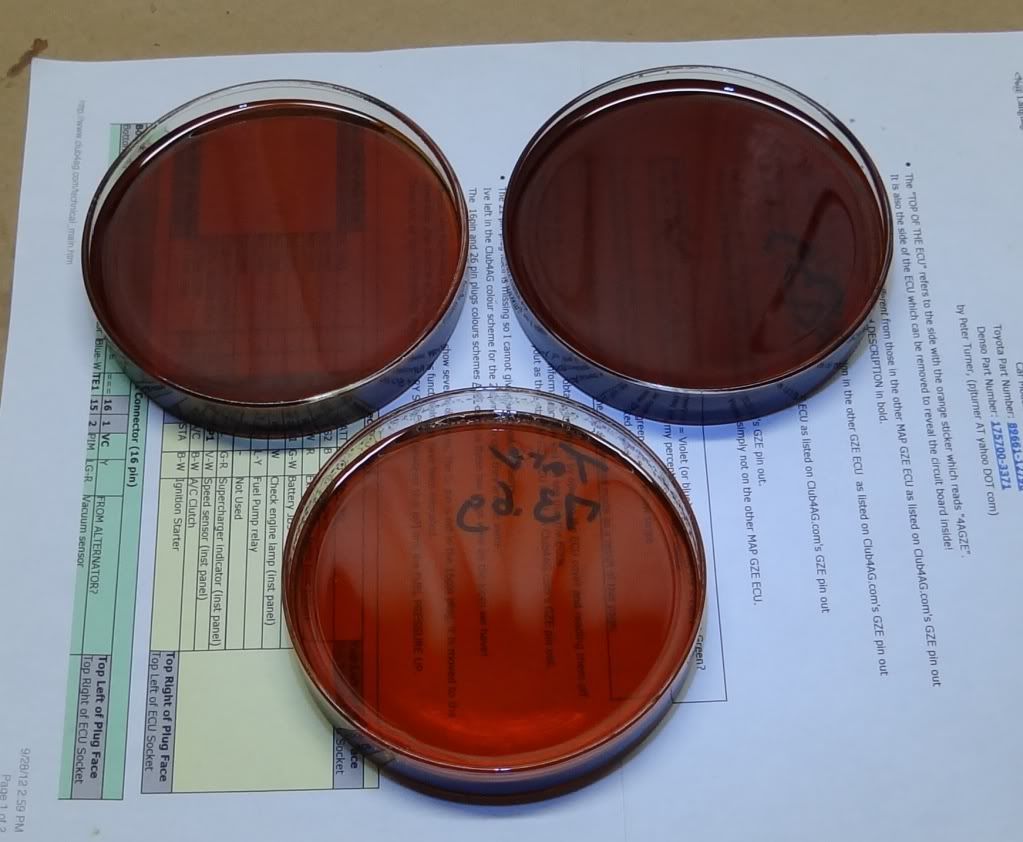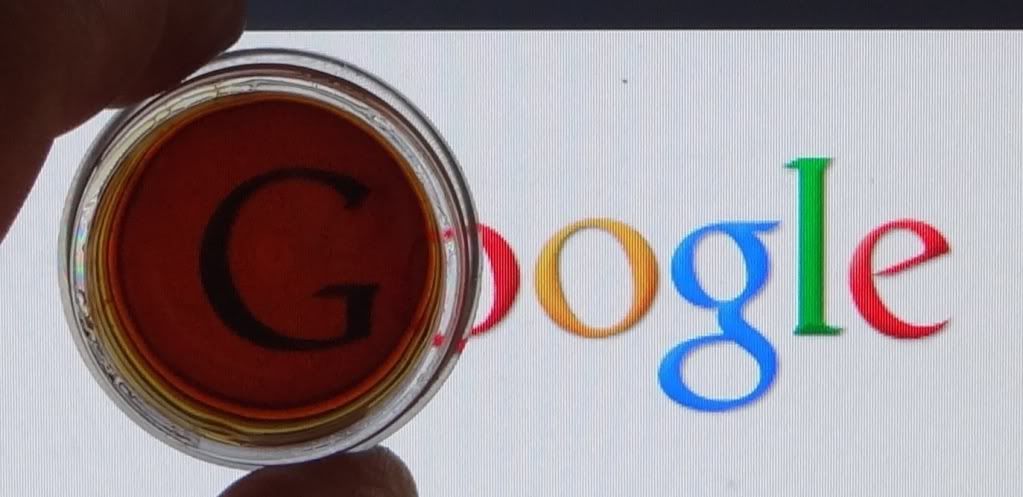 There are other methods for purging that does not use a vacuum chamber or heat. These use alcohol and are known as polar secondary extractions, or winterization. They can also be used to clean up your product by removing any lipids, waxes, fats and other non polar compounds you may not want in your product.
Here is a link to this process.
Polishing extracts « Skunk Pharm Research LLC
For baking information and ideas. You can easilly dissolve your BHO into many different cooking oils. Honeys are mostly decarbed and ready to go.
http://forum.grassci...bombs-more.html
Basic instructions for making a clear erl/touchable wax.
Purge times and temps:
Water bath: 100f until it starts to puff up, then agitate it some with a fork to pop the bubbles. Do this several times over a ten min period.
Oven: Transfer extraction from pyrex to a oil slick pad or some parchment paper. Allow to heat to 90f-110f depending on strain starting at 90f, allow to sit in the oven for about 30 min.
Vacuum: Warning: make sure the extraction is spread thin on the oil pad to avoid over puffing, also line the inside of the chamber with PP just in case. 100f-110f vacuum to 27 inhg then release, check to ensure it did not over puff or explode. Then vacuum to 29inhg for 30 min and up to 2 hours at this temperature. It should come out like this.
Basic instructions for a hash/budder.
PLEASE READ!!!!!!!!!!!!!!!!
Now about why it turns to honeycomb/budder? I know why but most don't understand. I will try again to explain. It all has to do with the compounds that make it smell good, the flavanoids, and there lower boiling points when compared to the other compounds in the extraction. These compounds are in the hard extract and when the extract is see through these compounds are stable. This means you cant smell then as easily which is why people prefer the smell and flavor of honeycomb/budder. Just like you cant inhale water until its a vapor, steam, you cant inhale these compounds that make bud smell good until they evaporate. So as these compounds, in the extraction, change state to a gas particle, they cloud the extraction and cause it to smell more. In short, the terps and flaves are brought out of a stable form and into a gas bubble, it is then trapped in the hard extraction. This is why it turns to honeycomb with low temps, then budder as the temp rises and the extraction gets soft. Since these compounds want to evaporate at room temp and pressure...................... It has very little to do with water. The slightest water contamination will cause an extraction to pop and sputter when dabbed. It is a rule called"the boiling points of compounds in solution" It states that the compounds with lower boiling points will boil off first and up the list of compounds in the solution by order of boiling point. Water has a higher boiling point than terpens and flaves.
In short it gets cloudy and opaque due to a state change in the lower boiling point compounds that get trapped in the hard extract.
Purge times and temps:
Water bath: 120f-130f until reaction stops.
Vacuum Oven: The higher the temp the more buddery it will be. So hash/honeycomb will happen at around 100f and up to 120f for budder. Leave it vacuumed at 29inhg until desired consistency is reached. Can take 24+ hours.
It should look like this when finished.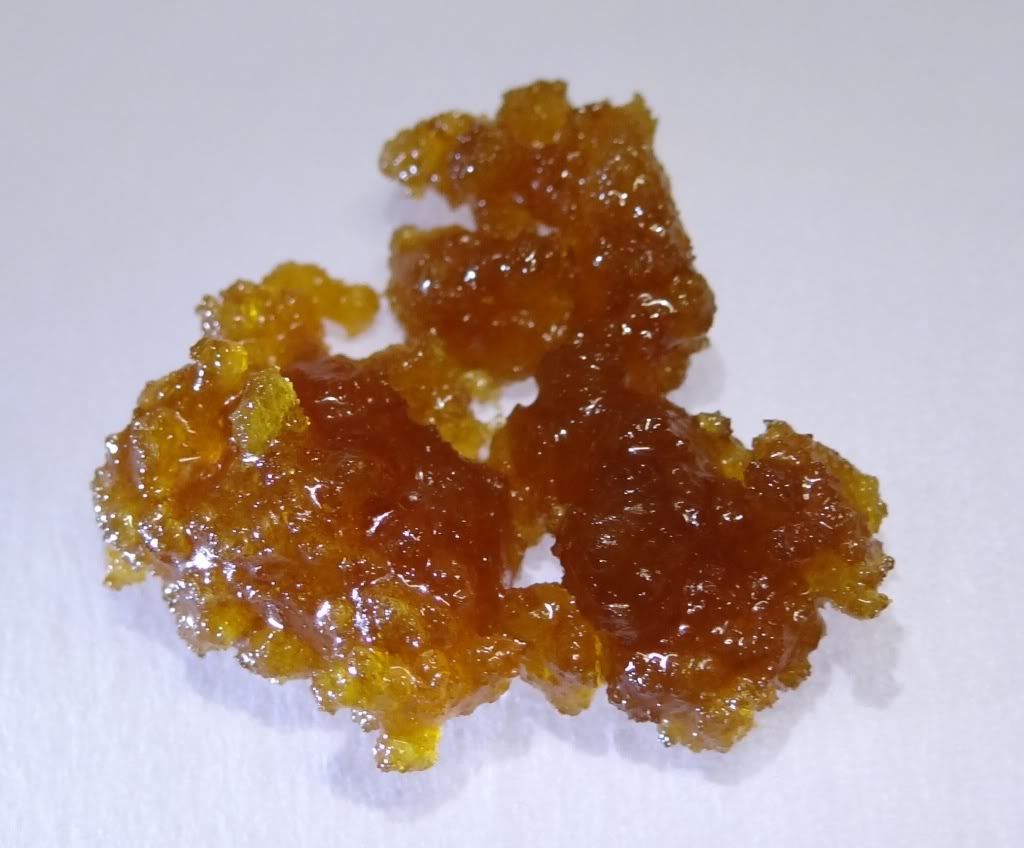 This is what honeycomb looks like and if your starting material is capable it is made at temps below 100f up to 120f depending on the material and under full vacuum until the desired finish is reached.
Basic instructions for honey:
Purge times and temps:
Water bath: 100f-150f until reaction stops. The temp does not really matter as long as it is not to hot.
Oven: 160f-180f until no reaction. This can take 24-48 hours.
Vacuum oven: Vacuum at -29inhg and 160f until no reaction. Must be stable at room temp meaning no new bubbles form after it sits for days.
It looks like this if you use good material and do it right.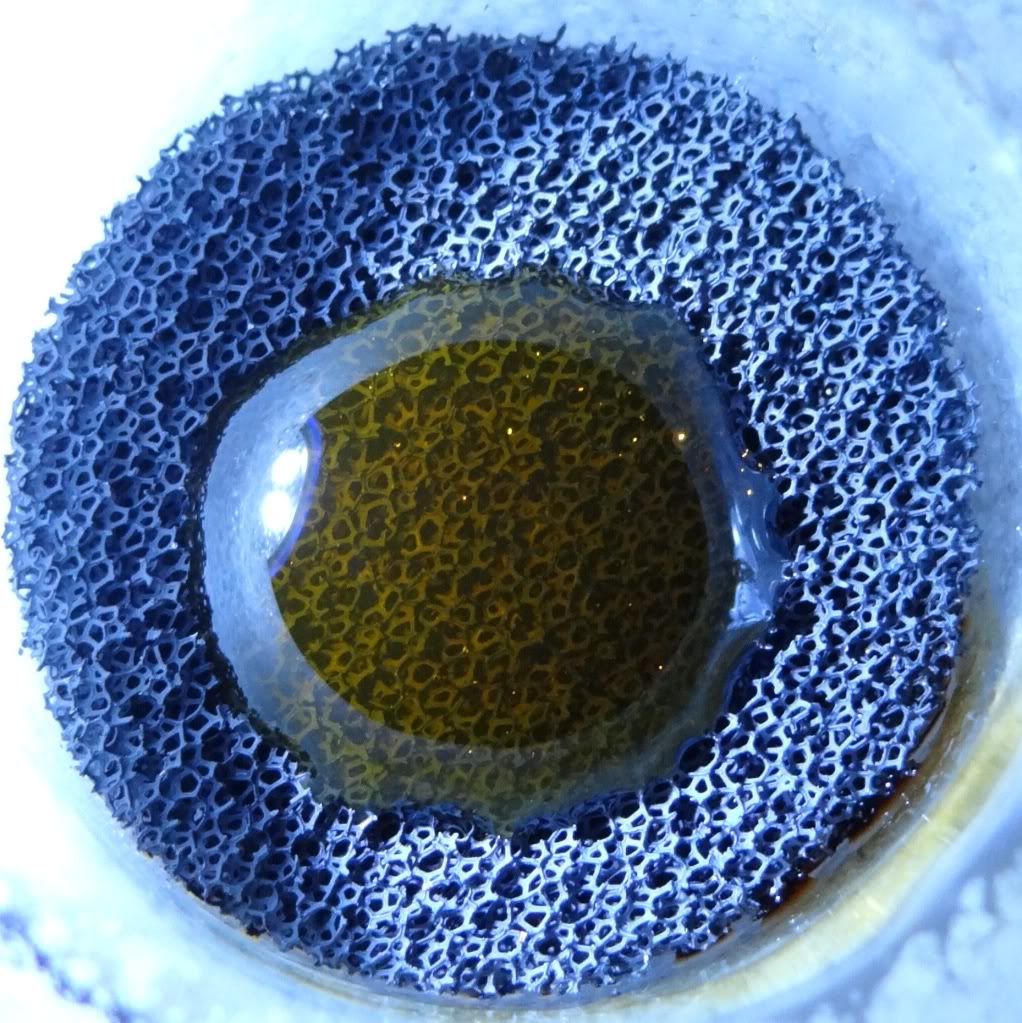 How to purge BHO without a vacuum setup.
Simply put a small amount of ISO or everclear in your dish prior to blasting, just enough to coat the bottom of the dish you are using for small runs and more if you are making ounces. This allows the BHO to remain liquid and for the butane to more easily escape without getting trapped. Just make sure you extend your purge times a significant amount to allow the alcohol to evaporate all the way off. The temps you use to purge can be about 20f higher than the vacuum method to achieve the same finishes.
BHO blasted into ISO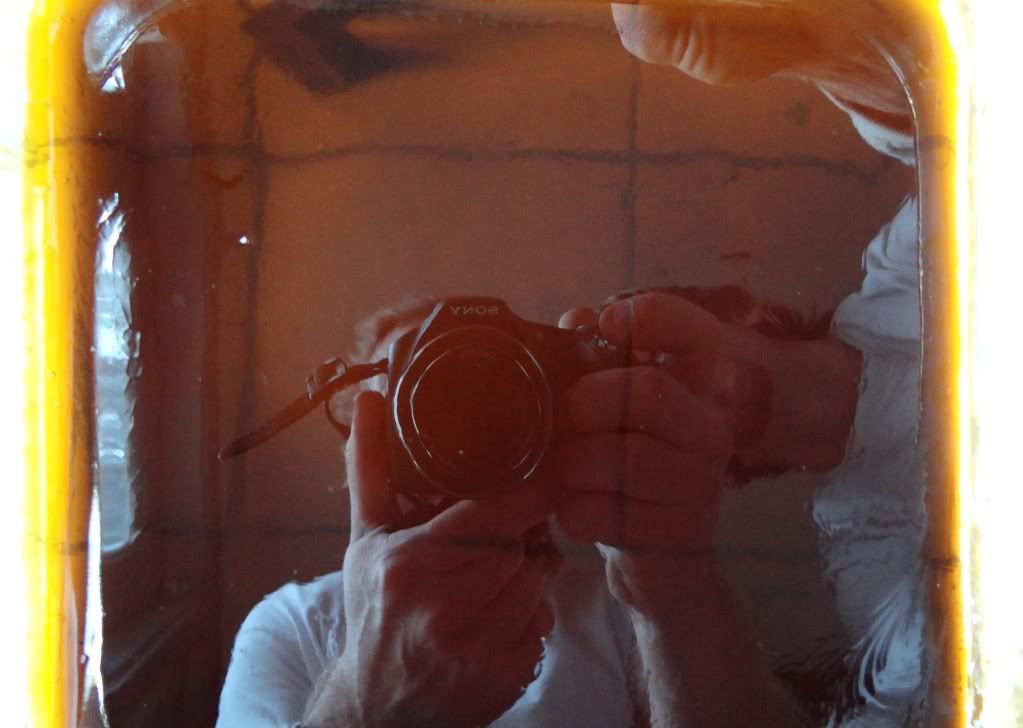 Storing BHO long term.
Since TCH and the other compounds we want break down when exposed to oxygen you need to have a finish that is as free of gas bubbles as possible. Only the cold wax/erl and honeys seem to keep for extended times. So for storage the rules is the clearer the better. In that regard I feel that honey is the best to store long term as it is the most concentrated and purged of the lot, but a properly made shatter or wax will also keep. So bubbles is bad for storage bubbles=budder if left for a long time.
Stay dabbed my friends.
Edited by stupidstuff, 23 May 2014 - 05:26 AM.