I had a few seeds that I wanted to germinate this week in my efforts to grow new mothers and try new strains. I ended up finding out a nice, convenient way to germinate that hardly takes up any room at all. Jiffy peat pellets fit perfectly into these small plastic tubs that I have accumulated (Great Value 2 qt drink mix tubs). I soaked the peat pellets and let them expand (with one in each tub). I planted my seeds in the pellets about as deep as the seeds are thick. I then used another tub as a little humidity dome for each one and put them all on a warming mat in a nice dark spot. I could not believe how fast I got the results I got (pictures below) when I got home. In 58 hours, I had sprouted seedlings that had all broken the surface of the peat pods ... in barely more than two days! I did no prior pre-soaking of the seeds or anything, just planted them in damp peat pellets, covered, and sat them on a warming mat in the dark. I used RO water throughout, also.
Plastic tubs (from Great Value 2 qt drink mixes) shown with a dry peat pellet, an expanded peat pellet, and used as a humidity dome -
Planted seeds, with humidity dome tubs and on a warming mat -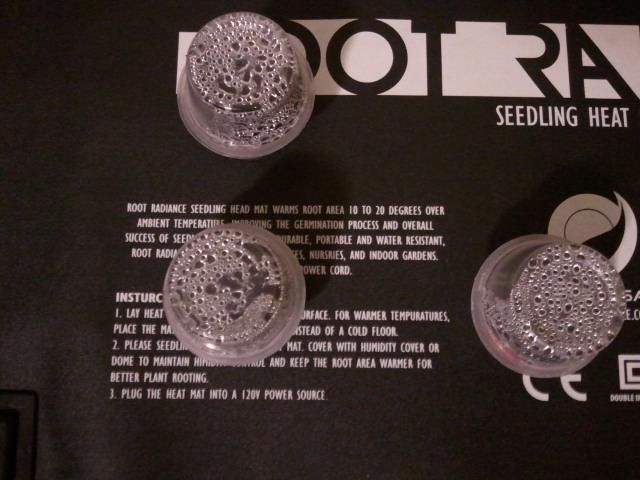 Grand Daddy Purple (left) and Black Cat (right) seedlings after only 58 hours -
This method worked perfectly, quickly, and with items I already had on hand. I plan to germinate all future seeds this way!