Whats goin on gc? This is my first tutorial so let me know what you think and how help full it was.
I recently made some free QWISO IT WAS VERY SIMPLE AND FREE....How free you ask?
Well lets start with at-least 1 of 3 things you need in order to get your free hash
1. a grinder
2 A vaporizer
3. Something you store BHO in (such as a BHO tray that has "impossible to get smears at the bottom off")
Ok first things first, i feel that making this was benefited most by having a dirty grinder.
"Dirty grinder" means that if you take your screen and put it up to the light you can barely see through it lol.
(*Hint*- The more grinders, the more free hash for you and your buddies. Call every friend you know, tell them to bring their grinder over, not only are you cleaning the screen/grinder, making it so brand new to the point where it looks like you just bought it, (+ allowing like 75% more keef intake again) you guys will be collecting nice free amounts
if you get 3 dirty grinders i wouldnt be surprized if you guys got 1-2 grams
.)
Now just think if 3 friends used 3 grinders 3 vapes and 3 bho trays oh man the yield would be nice
Anyway
I used 70 % iso (rubbing alcohol) which worked just fine, people recommend 90%+ if you can get your hands on it, i think you should do so, if not 70% will do just fine (its like 1$ at the supermarket and that bottle will prob last you 5-10 washs lol go buy it)
So find something to use to poor the alcohol into. I took a big plastic taco bell cup cut it 3/4 of the way down then cleaned it so i had a disposable alc holder lol.
Take the grinder apart, each tray (Salvage all the keef you can and separate that) Once you feel you have salvaged as much keef as you could,
drop the first tray of the grinder in the alcohol and swish the alcohol around in a circle for 30 secs-60 secs depending on dirtiness, take the part of the grinder out and wash with warm water, then repeat with each part until clean (make sure you look at screen and see it will look brand new)
Your Alcohol solution should look green now, this is good
Dump this into a Pyrex plate or pan.
(Let grinders parts sit out and dry for 45 mins)
Repeat with other grinder if you have any more to use
*(If you do not have a bho tray or vaporizer skip below)*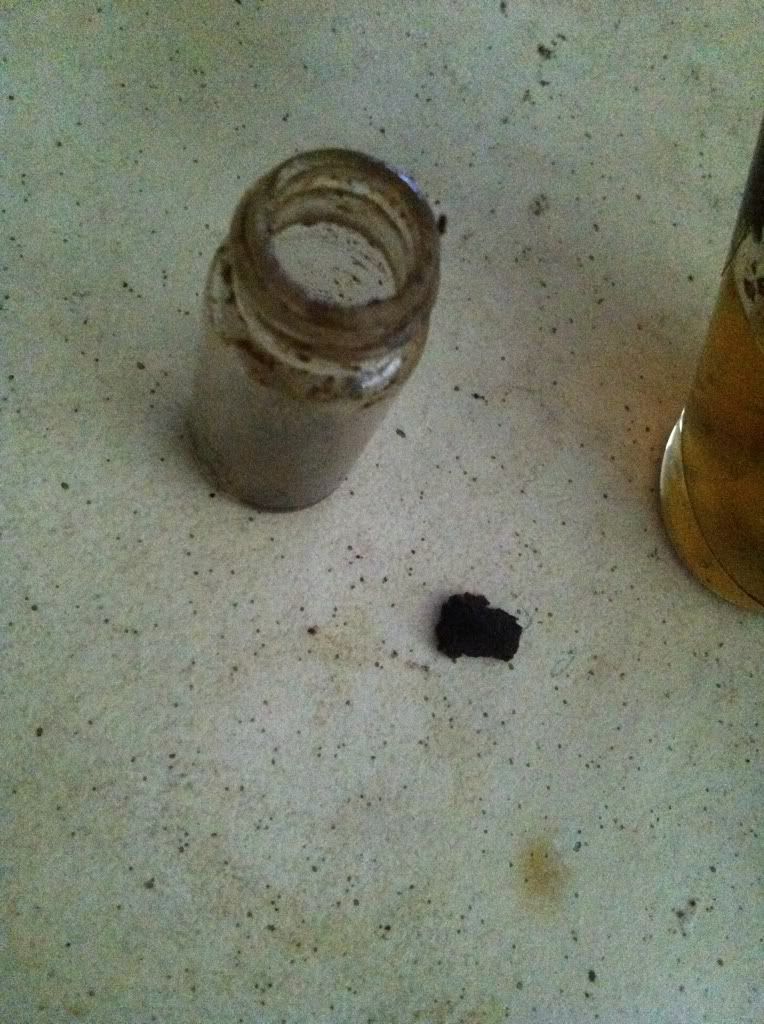 Poor just a little bit of alcohol into your bho tray and swish around let it sit for 1-2 mins then give it a swish or two then poor into Pyrex with your grinder solution
Then take your Vapes whip if it has res on it and poor the alcohol and shake then poor into the Pyrex as well
Now you are almost done
Boil some hot water and poor into a separate bigger pan place the smaller Pyrex pan with the alcohol ON TOP OF the pan with the boiling water. This will evaporate the alcohol without you having to worry about you causing a fire
(The liquid in this picture is actual bho not the alcohol solution we are using. Just used this picture because the double boil process is the same whether its BHO or QWISO)
About 15 mins later, you will have to add new hot boiling water, (this will be done 3-4 times) and about 3-4 water baths later (depending on amount of alcohol) all alcohol will be complete evaporated. You will see your finished product and its time to collect ! =)
Get a nice clean razor and scrape it up and their you go, its all free and it will get you BAKED So watch your self guys! I admit its not the best tasting (not so much taste but its very harsh on your thought)
(This pic is made from 1 Grinder cleaning, 1 bho tray, 1 vape)
http://forum.grassci...54&d=1336497368
Edited by MrxNiceGuy, 12 May 2012 - 04:39 AM.