Ok, so after looking at several threads considering small grows I am once again inspired. I have been into growing bud since I was like 14 ( LONG time ago)... never got much.... last time I attempted was about 2 yrs ago and it started off fine but failed due to LEGAL issues!!(another story) So this grow is something very similar to what I had last, a box !! Obviously I will be Training in this setup........
Dimensions are 30 x 12 x 30 lwh
Lights, 2 x 70 watt HPS
Pots, 2 x 6.5 Qt
Soil, Lambert Organic Potting Mix, the best I can get around here without ordering soil offline (no way) or driving 100+ miles to a dro shop... should I add some perlite?>?
Nutes, Fox Farm Trio Big Bloom,etc... this is something I actually ordered off line because WAY cheaper than a store.. plus got it shipped from Cali. just for extra measure even though they were shipping from here too... here Fl's laws on trees are OUTRAGEOUS..
I know you're supposed to Veg. with a light more in the "bluer,whiter" spectrum but my budget is out on all of what I got... about $320 so far .. If this box works decently I plan on buying some MH's for veg... just GOOD bag seed for now.... if it works well im shopping for genetics next round
This is my plan...........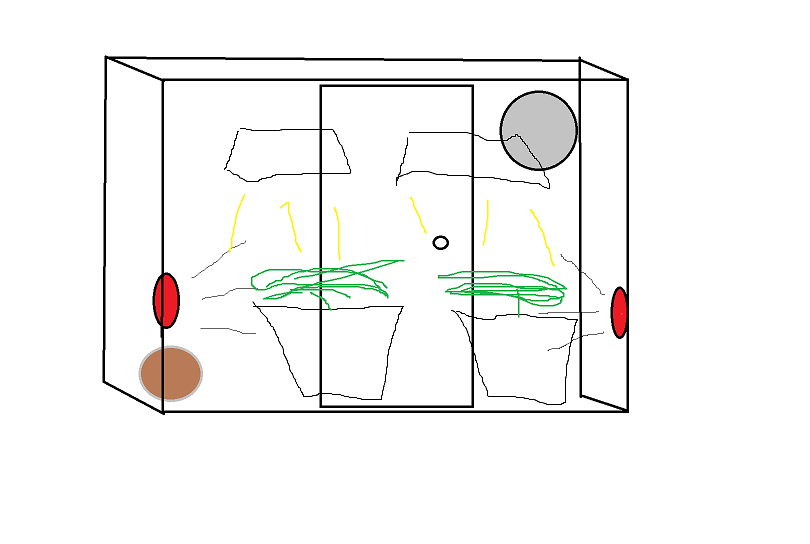 Grey- 6 in. outake fan
Brown- 4 in. intake fan
Red- 2 4 in. fans blowing on mj
Do you guys/gals think I have enough circulation??
The actual cabinet.............
yes, the 25 tall will stay on there.......
Allready painted it flat white and put a back on it... got my lights ready etc... Will post pics up tomorrow because this is all I have now.. just have to put fans in.....
Advice?
.
Edited by SlyPolak, 23 April 2011 - 12:31 AM.
high