What's up blades,
So, sometime last year I decided to try my hand at growing again, and it's definitely proving to be a lot more fun this time around.
Mainly, because I don't feel as if iv'e bitten more than I can chew
Around 8 years ago, I tried growing 4 plants in soil with a 400 watt hps, but never made it to harvest due to lack of knowledge and a hectic schedule. So I consider this my second REAL run.
I currently have an Afghan/Master Kush plant 38 days into flower,
and another girl put into flower on the 18th (banana crack bag seed) who showed pistils yesterday
The grow space is 23" D, 64" H, 56 W for the flower chamber,
and 20" D,30" H, 25" W for the veg/clone chamber. For now, i'm using two 26 w cfls.
The Kush girl is in a 3.5 gal DWC bucket, on 5/10 Lucas formula. I topped her main once, and tied her down some.
Some pics of her from start of bloom to current:
2 days in to flower (minor light burn)
Day 7 LST'ed
And 2 days later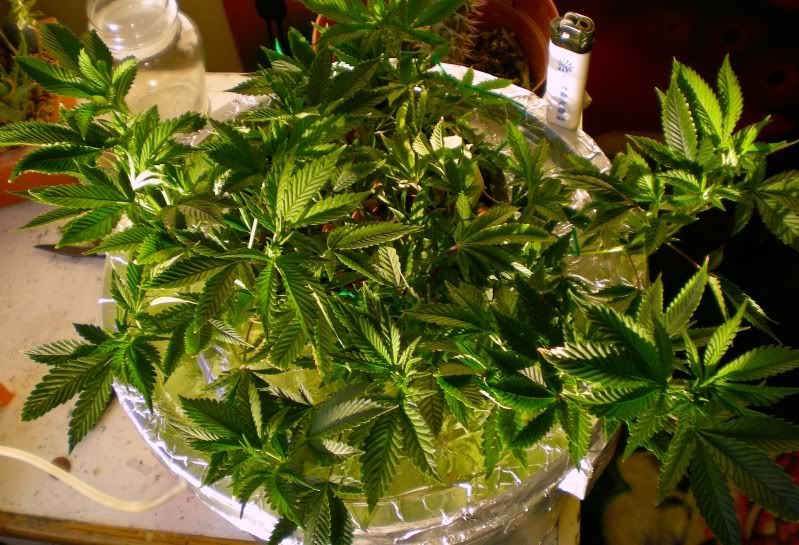 I started slacking and she got a bit unruly, so I tried to even out her canopy by drilling holes in the lid and tying some chicken wire to it, and laying her down some more...
Day 20
Day 22
Day 25
Day 32
Day 37 (somehow my photography is getting worse lol)
Day 39 (pics I took yesterday)
I thinking of chopping a handful of fan leaves to penetrate the lower canopy, my last pruning session turned into an aggressive defoliation, which lead to a staggered harvest. So, i'm a bit wary this time around and am trying to exercise control.
Will it hurt to take 10 or so leaves this late in flower?
Any advice or critique is welcome!