Every day I see someone on here talking about scraping their bowl for resin. How they want to conserve every last bit of their stash. Seems like they'll do anything for just one more hit...
Forget scraping out your bowl with a paperclip. I'm here to show you my favorite method of collecting/recycling
smokable
pipe resin. There really is nothing to it.
Tools:
Dirty pipe/piece
91% Isopropyl Alcohol
Ziplock bag
Table salt
Glass Pyrex dish
Razor
(optional) Cue tip
Lets get started. This is the most simple thing in the world.
(if you already know how to clean your pipe using alcohol and salt, skip to step 3)
FIRST: Make sure you're in a well ventilated area. Clean your piece like normal. Place it in a ziplock sandwich/snack baggie. Dump fine salt in through the bowl or whatever hole you want to. Not too much, I usually put in about 1 Tbsp of salt for a regular sized spoon.
2. Next pour in some Isopropyl alcohol. The stronger the better. Do enough to submerge your piece at least halfway. Then hold your pipe tightly and give it a good shake for about 2 mins. This'll get up most of the resin in the pipe. If it's still a little dirty (chances are it will be), let the pipe soak in the alcohol for about an hour. This will loosen up all the resin in it. If you need to you can use a cue tip to get any remaining thick gunk out of the pipe. If you need to get inside it just pull the cotton off the end and scrape that junk out. Not much to it, just use your head and you'll have a nice clean piece in no time. Also, make sure and run the pipe (just the pipe! Not the baggie full of resin) under warm water to get all the salt/alcohol out.
3. Now here's what you all came for. You should have gotten all that gunk out of your pipe, into that disgusting, black, smelly alcohol. Take that "solution" and dump it into a small glass dish (salt and all), just like if you were making qwiso hash. Let it sit overnight (about 12 hours) in a WELL VENTILATED AREA. You can place a fan blowing across it to speed up the process a bit if you're impatient.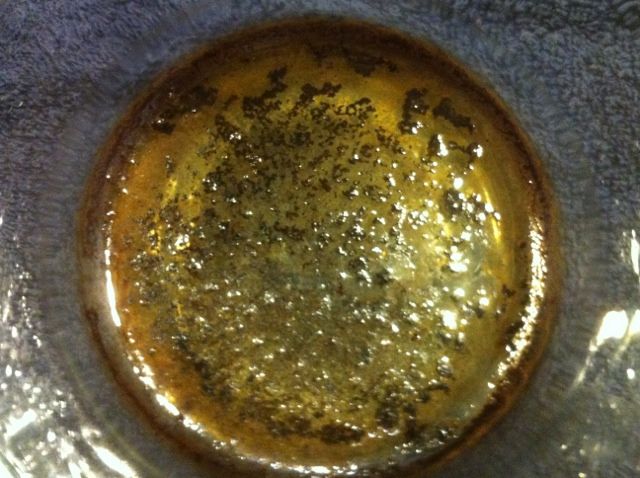 note: This is what you have left when it's dried (this was still a bit wet) before washing out the bowl with water. You want to get all the black resin and salt out of there.
4. When you come back to it you'll have a nasty thick pool of resin and salt. Trust me, you do NOT want to smoke that shit. Bring your dish inside and wash it out with hot water. This will lift that pile of gunk out, and will dissolve all the salt in the dish. Continue to wash it out until you're left with a VERY THIN, sticky, brownish layer of delicious "resin hash". Use your razor to scrape all that out of there. Get as much as possible. Remember, every bit counts. Let nothing go to waste! That's the reason you're reading this.
Sure it looks pretty sick, but this is not the same stuff you collect straight out of your pipe. This stuff actually burns a like bubble hash, and gets you stoned as fuck.
5. Pack a bowl of whatever you can, and put some of this resin on top. When you smoke it you just have to hold the flame right over it and get it nice and hot and it will melt all over your herb and bubble and smoke like crazy. I bet you weren't expecting the crap left over from cleaning your pipe to get you this stoned!
That's all there is to it. It is a bit of a tedious process to get 1 smoking session out of, but If you have some spare time and you're cleaning your pipe anyway, theres not many reasons to not do this.
BTW, I recommend smoking this crap in a water pipe. It really does smell/taste like...Resin...
PS I'll update with pics of the final product once the batch im doing now is finished.
Edited by ElementGREEN, 08 August 2012 - 12:39 AM.