Hey guys! Just thought I'd share my new case that we made up and the plants that I'm growing in it.
My first time growing, so if anyone can help out with my questions, that'd be bloody fantastic.
I've already started them, which I didn't do so well, because I germinated two seeds, started growing them, then germinated some more, roughly a month after. So I have plants growing at two different stages in the same case. So I think I might build another case (
opinions are welcome!
).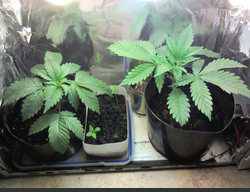 This is them so far. 3 bulbs above, one fan to the right at the bottom and one to the left at the top.
I'm putting a fourth bulb in later on this week. The left plant is drooping a little, as it was too far from the lights, so I had to centre the light bulbs so the plants get an equal amount of light. So hopefully in a day or so it'll spring back up.
At this stage I'm starting to research good ways to help them bush out. The seeds are indica, so I know they're naturally bushy, but I want them as bushy as possible, to help them grow as much bud as possible (
suggestions please!
).
I'll keep a updated picture of the whole box here VVVV
Updated: 22.7.2012
Edited by Rianaku, 23 July 2012 - 04:07 AM.