regular closet?
lets look closer and move some clothers out of the way
oh a gun cabinet?!
oh wait lets take off the lock and have a look inside
ohhh shittttttt!!! haha shits sick yo check out the wireing coming through the back that comes through the wall, its plugged in in my brothers room so i can blame it on him if i get caught!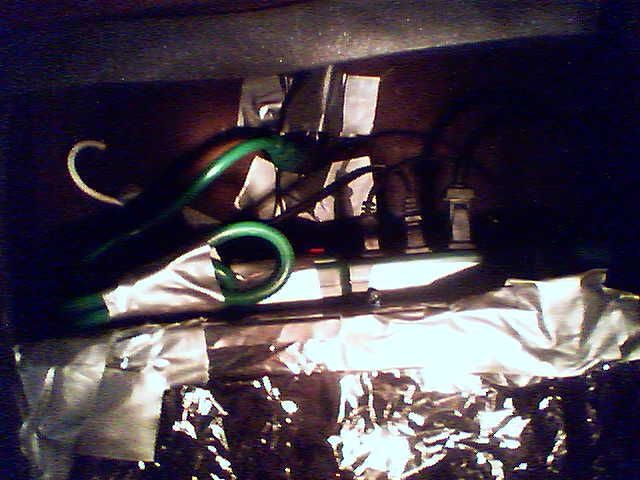 what are your thoughts and opinions on this grow set up?
i got 3 cfls- 2 mounted on the door and 1 mounted in the top center
i got 1 flouresant hanging on big zip ties from the top this is good because as the plant grows i can just zip the light up quarter inch at a time!
unfortunatly i have no plans or ideas for ventilation
i put foam around the door frame to make it so no light shines through and so the smell is contained
i have 3 locks on it
2 are chatman locks that came with the gun cabinet and one lock i bolted on its just a pistol lock mounted on the door of the cabinet it works quite well
i have power running in behind the cabinet from my brothers room so it is descrete and unnoticeable
i have placed some seeds in a tupperware container in water to start germination
of course i left this in my brothers room so if hes caught with the newly germinated weed plants he gets in trouble and kicked out of the house hahaa! fuck him
im even thinking about bolting the cabinet to the wall so it cannot be moved or inspected further.
im hoping for a good harvest
how many plants should i keep in here with given this light set up
i have a tray with six small divisions so i cannn start 6 plants most likely selling 3 or 4 of them and of course throwing out any males.
my first grow will be of mids that smokes like dro, this sucks i know, butttt i dont want to drop piff seeds on a set up that just might not work.
plus it would be a shame if my mom found a beautiful 4 foot sour d plant in my closet just before harvest!!! hahaha
my friend is going to set me up with a computer tower to grow in so i can start off piff plants and see how well they work inside the computer tower and then possibly transplant them to my gun cabinet and sell the middies plants.
ow-owwww!!! cant wait to grow these bitches!
Edited by Anony, 28 September 2008 - 06:36 PM.
Warning - No Posting of Weapons Allowed.