Big Moe(one of the members of the SUC) had a massive heart attack on Sunday, and is in critical condition. Damn this shit is so damn sad; DJ Screw, fat pat, hawk, and now Big Moe...The ***** drank way too much lean, he was sipping everyday, but he was already big as hell so lean isn't the only thing that caused his heart attack, although it probably didn't do him much good.
http://www.hiphopdx....as-heart-attack
"
Big Moe,
born
Kenneth Moore
, suffered a massive heart attack on Sunday October 7. He is currently hospitalized,
and some early reports have even stated that the rapper did not survive
- though this is not confirmed.
An original
Screwed Up Click
member, the Houston, Texas rapper debuted with his 2000 album
City of Syrup.
In 2002,
Big Moe
released
Purple World
, his sophomore album best known for the song "
Purple Stuff."
The
Screwed Up Click
originally consisted of rappers such as
Fat Pat, Big Hawk, Botany Boyz, Z-Ro, Trae, Lil' Flip, Lil' O
as well as others.
Fat Pat
and
Big Hawk
, brothers, were murdered in Houston, while
DJ Screw
(founder of the
rap
collective) died from overdosing on codeine and cough syrup.
"It's sad to see another member of the legendary S.U.C. in an unfortunate situation,"
said Houston radio personality
Crisco Kidd.
"I know the homie is gonna pull through, he's a solider. The world needs to say a prayer for my bro, my teammate, my click member and on behalf of Houston and the South we love him. Recognize him now, don't wait till someone is gone to recognize them,"
said
S.U.C.
member
Trae
."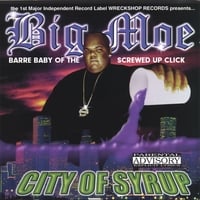 I know most of you probably don't know/care about the SUC or Houston rap(a few people like KSR will), but please keep all rude comments to yourself; the SUC is one thing I take very seriously, bangin screw all day everyday. I really really hope big moe pulls through, if not it's just another BIG loss for the SUC.